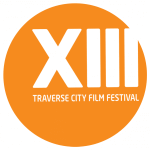 My last day at the Traverse City Film Festival (TCFF) was an important one with one major film being viewed and several more having to do with events that shook America 50 years ago and continue even now to shape our policing and justice systems for the better and the worse.  In addition there was one excellent thriller and a decent romantic comedy.
12th and Clairmount
2017 (82 mins) US [Documentary]
Fifty years ago beginning in the early morning hours of July 23, civil unrest started after police raided a "blind pig" — an illegal after hours gambling and drinking establishment — on 12th near Clairmount Streets in Detroit. The area was almost exclusively Black and consisted of residential housing and small neighborhood stores. The Black population had been densely packed there due to the relocation of thousands of African Americans from the "Black Bottom" neighborhood of Detroit – a move made to build multiple freeways to allow White suburbanites access to and from downtown. For the next 5 days this area erupted in fires, looting and violence including sniper shootings and resulting in the death of 43 persons (33 of them Black) and 40 to 50 million dollars of economic loss to a community that could ill-afford such devastation. In terms of buildings over 400 were destroyed and 388 families were left homeless. Called the Detroit "Riots" by most of White America and the Detroit "Rebellion" by Black America, the disturbance remained the worst in America until the South Central ("Rodney King") civil disturbance in Los Angeles in 1992.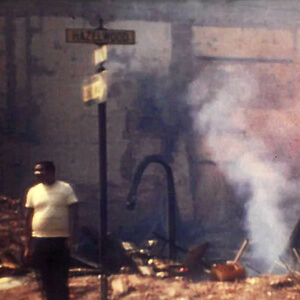 This insightful documentary, produced in large part by the Detroit Free Press (who won a Pulitzer Prize for their 1967 coverage), consists of archival footage — much of it newly volunteered home movies — from before, during and after the uprising. The footage also includes recordings of TV & radio newscasts, police and fire dispatches, and newly recorded interviews of those who lived through it. But what sets it apart from many documentaries is that there are no "talking heads." The oral histories (over 100 total) are heard but the video is constantly showing scenes of that event. And it may be frustrating for some viewers but the persons giving the oral voice-overs are hardly ever identified.  
Director Brian Kaufman weaves these elements together to entrance the viewer with an immersive experience. Despite my increasing sleep deprivation, being the last day of the festival, I never had the slightest temptation to nod off. Examining what led to the event, then each of the five days and finally the repercussions, one comes away with a markedly increased understanding of this deadly and tragic episode in Detroit and American history. Even to this day the events of those five days have hardened attitudes of both Detroit citizens and the suburbanites that rim the city. Despite being a resident of Detroit for several years and dwelling in Michigan for 48, I learned so much (who knew that Dr. King gave his "I Have a Dream" speech in Detroit in June of 1963, two months before he gave it at the National Mall in Washington?). It changed the way I think of the uprising. I need to mention the soundtrack which evokes the time so well (and whose tunes, of course, I can remember.
We were lucky enough to have Mr. Kaufman with us for a Q&A, along with a reporter who did some of the original reporting for the Free Press and also an archivist who helped accumulate the massive amount of material (there were over 400 reels of home movies submitted.) The Q&A was one of the best of the Festival, providing further insight into their process. I would watch 12th and Clairmount again tonight. Unfortunately to this point it has only been shown outside of Detroit for the TCFF… I pray that it will be made available to a larger audience. It has so much to teach us. Best Film of the Day. A
Detroit
2017 (143 mins) USA [Narrative Feature]
Using 12th and Clairmount as a starting point, I was excited to see Director Kathryn Bigelow's new, highly anticipated film Detroit (this was the first viewing of the major film since its Grand Premiere in Detroit the previous weekend.) Starting with the blind pig raid that initiated the disturbance (see the review above), the film quickly progresses to 4 days later at the Algiers motel in the same area and the murder of three black "men" (aged 17, 18 and 19) by, all evidence indicates, Detroit City Policemen. Some characters are established quickly, such as the vile Officer Krauss, played with awesome villainy by Will Poulter (The Revenant, The Chronicles of Narnia and The Maze Runner.) Another parallel story is that of a Black men's singing group, The Dramatics, headed by lead singer Larry. He is portrayed by relative newcomer Algee Smith whose performance is incredible and provides the consistent thread throughout the film.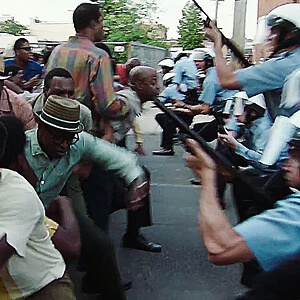 That evening Krauss and his fellow cops think they see a sniper firing from the Algiers where Smith and his manager have taken a room to avoid the street violence.  With them are characters played by (among others) Anthony Mackie and Hannah Murray. Upon rushing the area of the motel the officers felt was involved, they find numerous African American men (including Larry) with two White women. They ruthlessly interrogate all of them for hours with Krauss going off on a completely sadistic power trip. Three end up dead and the rest escape after being both physically and emotionally brutalized. During the "interrogation" Michigan National Guardsmen, Army Paratroopers and Michigan State Police walk in and out of the area but "don't want to get involved in a civil rights issue." A security guard from across the street, played by John Boyega (Star Wars: The Force Awakens & The Circle) unsuccessfully tries to deescalate the situation.  
Bigelow (Zero Dark Thirty & The Hurt Locker) once again collaborates with writer Mark Boal and features her hand-held, constantly moving "cinema verité" camerawork. Interestingly, some of the same archival footage from 12th and Clairmount are seen in this Hollywood production. The movie, in its midsection, is unrelentingly brutal and hard to watch. One almost gasps with relief when the horrific scenes end and Bigelow moves on to the trial of the police officers and its aftermath.
Despite its heart-grabbing drama, I had some concerns. While an animated prologue explaining the "Great Migration" to the North and events leading to 1967 is a nice touch, the chronology of events to the Detroit uprising is not completely accurate, as seeing 12th and Clairmount makes plain. For instance, Army troops — as opposed to the National Guard — did not arrive until the 4th day even though the movie indicates otherwise. And the details of what occurred during the Algiers Motel interrogation are extremely muddled (for instance, there were allegations of sodomy that were never shown or told of in this film.) How do we know that Boal's script shows us what actually happened (which many will assume is the case) versus what is dramatically effective? Several of the incidents depicted occurred with only a person who was later murdered and one or two racist patrolmen in the room… how do we know what really happened? I don't think the cops left an accurate record. And the Boyega character and his involvement in the trial (after being charged with wrongdoing) is completely confusing and left up in the air. His character as a whole is ineffective in adding insight into the events.
Despite those issues, Detroit packs such raw power addressing an undeniable history of Detroit police brutality to its Black residents that this is a must-see if you have the stomach for it. Toure' writes about his frustration with films about Blacks directed by Whites but in the end supports Bigelow's Detroit. And so do I, as raw and difficult to watch as it is.  A-
True Conviction
2017 (84 mins) US [Documentary]
This film tells the story of three men who, between them, served over 50 years in prison for crimes they did not commit and were, luckily, exonerated. Now, led by the charismatic Christopher Scott, they have formed an organization, House of Renewed Hope , that accepts letters from other convicts who feel they are innocent. With his co-investigators and freed convicts Johnnie Lindsey and Stephen Phillips, they  read through the hundreds of letters they get each week and select the ones that "ring true" to them, having been in that same situation. They then put a team of investigators on the case doing much of the work themselves. This documentary was 5 years in the making by Director Jamie Meltzer, who admitted (in the great Q&A that he and Mr. Scott appeared at to our great pleasure) that the first couple of years were spent gaining Christopher's trust. As Christopher said, "When you have been screwed over by the system it takes a long time to gain that trust back."
Mr. Scott, spent 13 years in Texas prisons for a capital murder conviction he could not have committed and was released seven years after another convict admitted the murder for which he was serving time (SEVEN years!). Yet he is immediately likeable, positive and energetic, making one fall in love with him from the minute he appears on screen. His story and that of his two compadres is shown on screen, with their struggles (one lands back in jail due to substance abuse issues while another's son ends up in prison and he is left to raise his two year old grandson) and joys (one found "the love of his life" and we witness his marriage). In addition we hear of the results of some of their cases — some with joyous endings and others not. I became as emotional as I had the entire festival when I watched an elderly Black man, who had wrongfully been imprisoned for over 40 years, being driven away from his prison in the back of a vehicle and looking out the window at a vast, beautiful sky with billowing clouds… and seeing tears streaming down his silent face. That is great movie making.
True Conviction is scheduled to be on PBS's Independent Lens next April 2018 and after that on Amazon Prime. Don't forget about it… it is so worthwhile to see.  A
At the End of the Tunnel
2017 (120 mins) Argentina, Spain [Narrative Feature]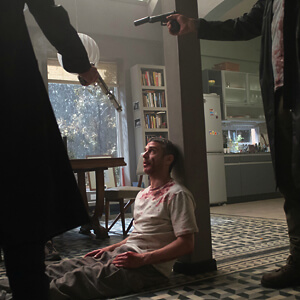 This film is a wonderful thriller and, along with Farewell, were the best suspense movies of the festival. The story's protagonist is a man living in seclusion, confined to a wheelchair due to his paraplegia from a tragic incident in his past. His life is changed when, due to financial concerns, he must rent out the upper floor of his large house. A woman and her young, mute daughter move in and his life is changed. There is attraction but what motivates this mysterious woman? Can she be trusted? Why is her daughter mute? What are the unusual noises he hears in his basement? Why is the young girl talking to his dying dog and why does the dog seem to respond to her? What buried secrets are in the back yard? And why is there a locked room into which no one is allowed access?
All these questions will be answered, to be replaced by others leading up to a wonderfully tense climax… and then another… and another. There is such pleasure in viewing this film where all the loose ends are tied up. The roles are wonderfully played with disgusting villains and clever heroes (and an adorable dog that does not die… what more could you ask for?). By the way, referring to my previous negative review of Mr. Long, this movie is everything that movie is not — both are a story of a loner who bonds with a young child and woman of unknown history, and end up having their lives threatened by outside forces. While Mr. Long was incredibly poorly written and directed, At the End of the Tunnel is just the opposite. I also loved the opening title graphics. My congratulations to director and writer Rodrigo Grande for a wonderfully put together story.   A  (Subtitled)
Laavor et hakir/The Wedding Plan
2016 (110 mins) [Narrative Feature]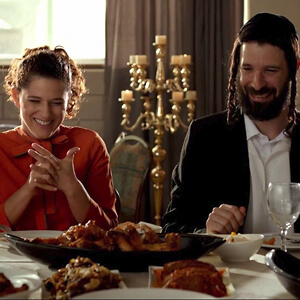 The Wedding Plan is a romantic comedy set in the Orthodox Jewish community — okay, a little unusual. As she is about to be married, 32 year old Michal (Noa Koler) is stood up by the prospective groom.  With her long set-and-planned wedding day (the eighth day of Hanukkah) still scheduled, she decides this is a test of her faith and proceeds with faith that "God will provide" her groom. Her friends and family feel she has gone off the deep end, but she remains publicly unshaken while inwardly despairing as the date approaches. To bolster her faith, she makes a pilgrimage to the sacred shrine of the grave of Rebbe Nachman in the Ukraine. There she meets Yos, an Israeli pop star and they flirt. Is he the one… sent by God? Or is it one of the blind dates her matchmakers (yes, plural) are desperately arranging? Or someone else in her life that she does not yet see as a possibility?
More than a romantic comedy, this has serious Job-like overtones of one's faith being tested. Almost everyone gives up on Michal and comes to the ceremony only to see her humiliation when God does nor provide the groom. And we, the viewers, wonder too.
A very pleasant film which, for non-Jews, poses some problems in understanding (like the Nachman Shrine that I had to Google later (NEVER during the movie… grin.) And frankly, some of the conversations of the matchmaker-improvised dates were deadly boring. And I am not sure Koler, as Michal, was the right choice for the role as her facial expressions are hard to decipher. However, in the end the story of faith comes to a satisfying and uplifting conclusion. The Wedding Plan is worth seeing in a time where films that involve one's faith are either non-existent or much more poorly done than this one.   B  (Subtitled)
So that was that. Twenty-three films in five days and so many more I wanted to see. Tomorrow I will post my final feelings and whether any of the films I reviewed were award winners at TCFF. I am a little depressed at having to wait a year for another TCFF but have come away from this one with so much on which to ruminate and the warm pleasure of seeing so many wonderful films.
---
For more coverage of Traverse City Film Festival 2017 see the rest of the articles in this series: Day 1, Day 2, Day 3, Day 4, Day 5, Wrap Up