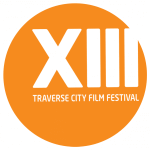 I saw some standout movies today (and a big miss), and we had another day of beautiful Traverse City weather.
The King's Choice
2016 (117 mins) Norway [Narrative Feature]
Highly lauded in Europe, this much anticipated film is soon to be released in this country. Portraying a relatively unknown chapter in WWII history, it tells the true story of when the aging Norwegian King H. S. Kong Haakon VII, having no true political power, uses persuasion and appeals to his countrymen's patriotism to prevent Norway from capitulating to the fearsome German war machine. Covering just three harrowing days in 1940, it dramatizes a small country being overwhelmed by German invaders and yet bravely holding fast when many wanted appeasement. A secondary story of the German ambassador in Oslo desperately trying to persuade Hitler to allow some type of compromise which maintained Norway's independence is equally engrossing. The outcome is in doubt until the very end of the film, and the end titles tell what happened to each of the main characters — which is very satisfying.
T
he King is played by Jesper Christensen of numerous James Bonds films (Casino Royale, Quantum of Solace and Spectre) and the empathy he generates for his character is remarkable. Being a King is not always a cushy life. Equally impressive is the portrayal of his son Olav played by Anders Baasmo Christensen (Kon Tiki), whose love for his father and willingness to leave his family for the sake of his country is heartbreaking. The German ambassador played by Karl Markovics (The Grand Budapest Hotel) is also memorable in bringing a human face and emotions to the Furhrer's government. The music (very ominous as the German battleships begin to solidify out of the early morning fog… almost as in the infamous Jaws theme) is a central part of the mood and tension of this film. Once again (as in other TCFF films this year) the icy winter tableaus are beautiful. And the special effects for the sinking of a German battleship certainly illustrate that this is not a low-budget affair. The many inter-title cards are expertly placed and provide a countdown to the final confrontation. Erik Poppe (of 2008's wonderful Troubled Water) directs with a deft hand. By all means see this film when it is released in the USA next month — especially if you love historical dramas. A (Subtitled)
Gook
2017 (94 mins) USA [Narrative Feature]
Soon to be released nationwide, Gook is a look at events in Los Angeles during the Rodney King trial results which lead to the South Central riots in April of 1992. The story was written and directed by the young Korean Justin Chon based on his memories of that time as a child in LA. Not satisfied with being writer/director, Chon (of the Twilight series) also performs an amazing tour-de-force since he in addition plays the lead. His character immediately engenders an effortless empathy. The story is complicated but feels real, and the result is unpredictable till the end. Child actor Simone Baker also gives a head-turning role as an African-American child adrift without guidance, other than that provided by the two Korean shoe store owning brothers (Chon and David So) whose connection to the young girl is not apparent until 2/3 of the way through the film.
Winner of the NEXT Audience Award at Sundance, Gook is shot in beautiful black and white. The headlines on the TV's and on their pagers (now that is a throwback) let us know that the tragic trial is spreading mayhem across the city. The thick density of the F-words may be difficult for some and this is certainly a very adult drama (several people walked out during the showing I attended). But you will go away having the true meaning of "family" reinforced. Gook is very much reminiscent of Spike Lee's early works (especially Do the Right Thing). But a few points off for making the relationships in the film so difficult to sort out. A-
The Blood Is at the Doorstep
2017 (98 mins) USA [Documentary]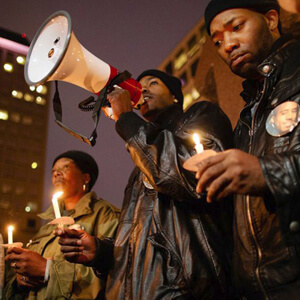 On April 30th, 2014 Dontre Hamilton, a schizophrenic young Black man was sleeping on the pavement in a plaza in front of a Starbucks. It was the middle of the afternoon in downtown Milwaukee, Wisconsin. He was not bothering anyone, but the Starbucks' employees called police to have him "checked on." They did so twice and police found that he was just sleeping — not breaking any laws. A third police check was done (unrequested) by an officer who was not summoned. A confrontation resulted and despite Dontre being unarmed, he was killed when the police officer shot him 14 times. The police then waited over eight hours to notify Dontre's family (despite having their address) and by that time were telling TV listeners that he had a history of violence and was a habitual criminal (all untrue).
Dontre's story and that of Dontre's family's struggle for justice since that tragedy is told in this documentary. There are just not enough good things to say about how wonderful this documentary is. You will leave disappointed (once again) in the American justice system (especially as it pertains to Black justice) but also, hopefully, vowing to continue to work for a better system. Director Erik Ljung was present to showcase his film and answer questions. His documentary is not angry and sensationalistic…in part due to Mrs. Hamilton, Dontre's mother and his impressive older brother Nate. In addition to Mr. Ljung we were fortunate to have Mrs. Hamilton present at this viewing and she "wowed" us; verbally articulate and insightful but yet clearly grieving. The repercussions of this event still reverberate in the Milwaukee community (where my daughter and her family live.) This is a film of importance and impact. Best film of the day: see it if you can. A
Mr. Long
2017 (108 mins) Japan [108 mins]
The premise of the story is intriguing – a gruesomely deadly Taiwanese hitman is seriously injured on one of his jobs in Japan and takes refuge in the very run-down area of small Japanese rural town. The townspeople are attracted to the silent stranger (it is nearly 30 mins into the film before he says his first words) and set him up with a noodle cart because, somehow, he has wonderful cooking skills. He becomes attached to a street urchin and his addict-mother and helps things turn for the better in their lives. It would seem that he may give up his previous murderous ways. But… there is always a "but" to these stories and you know it will not end that way.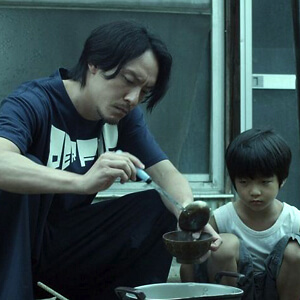 I wanted to like this film but it is bad in so many ways. Yes, Chen Chang (Crouching Tiger, Hidden Dragon) is devastatingly handsome and handles his 20 (?) lines of dialogue fairly well, but his transformation from ruthless killer to father-figure is laughable. The film has sudden bursts of sadistic violence, followed by long stretches where every sentimental shot that should last 5 seconds lasts, instead, 20 or more. There is a never-ending flashback about half-way through the film that could have told you what you needed to know in 5 minutes but instead lasts 25. There are so many trite devices I cannot even list them all (the girl who commits suicide out of shame, the child who works without reward just because he so likes his new father-figure, the gangster with a heart of gold, and the neighbors from a bad part of town who suddenly love their new mysterious neighbor. Plus about 2/3 of the way thru a Japanese kabuki play in costume is presented that is endless and seems to serve no purpose to the plot at all (and it is really a bad play). This is all mixed with liberal doses of throat-slashing, garroting, being run through the stomach with various sharp objects, gunshots, numerous stabbings and all types of mutilations. Oh, I forgot the numerous rapes. Plus HUGE plot holes. Yeah, not a good movie. D (Subtitled)
Tomorrow is closing day and I am already getting depressed about "the end." But I am hoping for 5 outstanding movies. Join me to see If that should happen.
---
For more coverage of Traverse City Film Festival 2017 see the rest of the articles in this series: Day 1, Day 2, Day 3, Day 4, Day 5, Wrap Up