I think back on the genre of "horse movies" I have watched (some repeatedly) and loved such as My Friend Flicka, The Black Stallion, National Velvet, Sea Biscuit, and War Horse. In them, the horse was the central character or at least the co-star. Lean on Pete is not one of those. Rather, Lean on Pete is a coming-of-age film such as Lady Bird, The Karate Kid, and Stand by Me. The horse named Lean on Pete is not anthropomorphized, is not exceptional in any significant way, and does not teach any lessons to the humans in his life. Lean on Pete is instead a film about a 15-year-old boy now approaching adulthood much too quickly and not by his own choice.
Pretty Much Alone in This World at Age 15
The film's protagonist, Charley, is a 15-year-old who now lives with his (sometimes present) father in Portland, Oregon after his father's abrupt departure from Seattle. Charley has moved a lot in his life after his mother walked out on Ray, her spouse, and their child when he was a young boy. Ray and Charley live in a small three or four-room rental house filled with cardboard boxes and broken furniture in a "bottom-class" area of the city. Charley unpacks his few small trophies obtained at his previous school and sets them on the window sill. Between them Charley props up a fading photo of he and his Aunt Margy — the one person in this world who was always there for him before she was removed from his life due to his father's constant wandering and a falling out between them. Ray may leave with one of his several "girlfriends" for overnight or a few days — Charley never knows in advance. And the refrigerator (all food is kept there to ward off the cockroaches) is rarely stocked with enough food to last till his return. Ray, played effectively by Australian Travis Fimmel (Warcraft, Vikings), seems to care about Charley when he is around, but is too busy having a good ol' time to invest anything into Charley's life.
C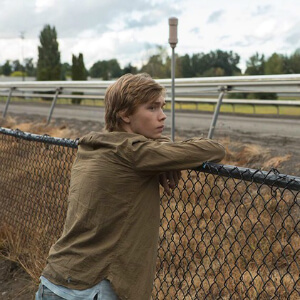 harley, fending pretty much for himself to the point that he is forced to shoplift for food out of grocery stores, passes time with running (so he can make the football team in the fall) and watching TV on his small set. But one day his run takes him by a fading horse race track, Portland Meadows. While passing by, he is called to by an old man in the parking area of the track having trouble changing a tire on his horse trailer. Del, the man — whose right arm is in a short cast — tells Charley he will give him five bucks if he helps him fix his flat and Charley comes to be a sometimes helping hand for Del, who is a small-time owner of a few quarter horses as well as a not-very-successful trainer and grifter.
Working the Backside
Del has Charley care for his horses which include the past-his-prime but gentle 5-year-old quarter horse Lean on Pete. Often not coming up with the money he promises Charley, Del's irregular compensation nonetheless puts some hard-to-come-by food in Charley's fridge. Charley becomes more adept at "working the backside" which refers to caring for the horses in the private stable areas of race tracks. Del, who maddeningly is both lovable and a foul-mouthed crook, lets Charley get more and more involved. Meanwhile his father Ray ends up in the hospital after being critically injured by one of his "girlfriend's" husbands. More desperate for money than ever, Charley makes himself available for every moment Del will take him and ends up illicitly sleeping in the tack room with the horses.
After Lean on Pete wins the first race to which Charley takes him (with Del and his jockey Bonnie — played winningly in a small role by Chloë Sevigny of Beatriz at Dinner and Girls Don't Cry), Lean on Pete loses a number of races (in large part due to being abused by racing him too frequently). Del decides to sell Lean on Pete to have him shipped off to Mexico, where he will be slaughtered. Bonnie had warned him "You can't get attached to a horse. They're here to race and nothing else… He's not a pet. He's just a horse." But Charley, in the way of all 15-year-olds, has grown attached to Lean on Pete, the only living being left that he can talk to. He had not yet learned the hard fact that at that level of racing, horses and jockeys are easily replaceable and disposable. So Charley makes a fateful decision which changes his life's path forever.
"Hey Pete. How Ya' Doing?"
The film is based on the sparse, award-winning 2010 novel of the same title written by Willy Vlautin, who chronicles the lives of those at the bottom of western America's economic rungs. As in this film, Vlautin's novels tell of life on the streets and on the run, stories often infused with loneliness and substance abuse. And stories of kids in poverty, something not seen much in American cinema but reminding one of the classic 1948 film Bicycle Thieves or, in some ways, last year's A24 film The Florida Project. Charley, despite stealing and lying when he has to, is an incredibly good and likable teen. Clinging to his tattered photograph of his aunt Margy, he makes his way from one loss to the next — most of the time running from juvenile authorities who want to put him in foster care. This small film touches the heart of viewers not because of how cute Lean on Pete is (he is actually a pretty run-of-the-mill horse) but rather experiencing Charley's struggles with circumstances not of his making. Our rooting for Charley as he undertakes his unsentimental odyssey across Oregon, Idaho, Colorado, and Wyoming is absorbing and gratifying. The ending is bittersweet but satisfying.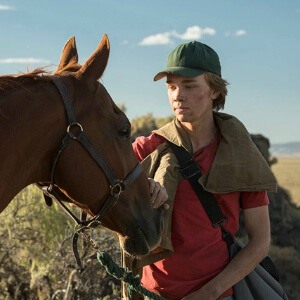 For much of the trip Lean on Pete is Charley's only companion. Charley sleeps with him, talks to him, and tells him his heart's deepest aches. Lean on Pete is his silent, stoic therapist and Charley tells him of his deep yearning to belong to someone who will be there each night for him — to have a relationship of unconditional and responsible love. But it is a surprise and a little odd, given the film's title, that Lean on Pete does not remain central to Charley's story. Instead it is Charley's need to find Margy, even if the likelihood of that seems slim to none.
An Old Hand and a Newcomer
Two performers stand out in this film — the first being the great character actor Steve Buscemi (Fargo, Boardwalk Empire, Reservoir Dogs, and so many others). Buscemi elevates the role of Del to a more complex character than the novel where Del was completely foul-mouthed and vile. Instead Buscemi (perhaps as a result of the screenplay but maybe not) is course, hard-hearted, dishonest, and maddening while also having a crack of concern and warmth towards this waif who stumbled into his life. Del's interaction with Charley the first time they eat together in a run-down café (I would not want to see the kitchen) is a beautiful piece of writing as well as acting. The scene smacks of genuineness as well as the (sometimes) cluelessness of a 15-year-old:
Del: "Look, if we're going to be working together you gotta get some manners. And you've got to chew your food. What does your mom say?"
Charley: "I don't know. I don't know her."
Del (startled and a little flustered): "Well does your dad have any manners?"
Charley (As he continues to stuff food into his mouth): "I don't know. I guess I've never really noticed."
I could watch that interaction over and over, as well as the wry put-down Chloë Sevigny's character Bonnie gives Del when he tells her he is tired of hearing her talk. (I will not spoil it for you but if you must know it is in this clip). Despite being in less than half the movie, Buscemi's performance is unforgettable.
However, this movie will go a long ways toward making a star of Charlie Plummer as Charley. I am the grandfather of a 15-year-old boy and I can tell you that Charlie Plummer (now 19 years old) has the manner of a quiet 15-year-old boy down pat. He is unsure until he decides, worried until he is committed, and accepting of his fate but despite everything is still hopeful his future will turn for the better. He does not want to do bad things but is able to prioritize his and his horse's survival. There are no tears in this young man — save in one scene.
Even though the film misses much of Charley's beautiful inner dialogue that we read in the novel, Charley none-the-less comes across as an impressively resourceful young man. He adheres to a personal code of conduct until he must steal to eat, get gasoline, or provide Lean on Pete with feed. Plummer portrays this contradictory morality with a remarkably low-key performance where many young actors would overact. His lithe movements and thin, expressive and sober face with an occasional small smile remind me of the sadly now-gone River Phoenix. Plummer was notable in last year's All the Money in the World, but I suspect this is the film that will put him on Hollywood's A-list.
Both the Good and Bad Sides of Human Character
The screenplay was written by British director Andrew Haigh who in 2015 directed the very well received but difficult-to-watch 45 Years. That he could so expertly adapt Vlautin's novel and direct such an authentic feeling American movie is a testament to his capabilities. As in the novel, Charley meets compassionate strangers as well as evil and dangerous ones. Some turn from one to the other. In this time of such widespread turmoil about how to treat the "alien" among us, this film brings up many thoughts to the viewer. The screenplay necessarily eliminated some of those experiences but the best ones were included — save one experience where Charley was befriended by a Latino barely able to speak English. I wish it had been included.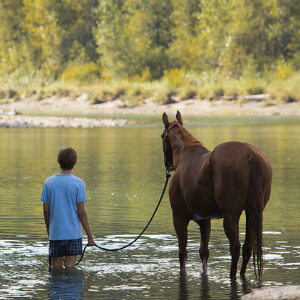 In a tense scene Steve Zahn, who always makes me notice his presence, plays Silver who starts out as a generous street companion only to scarily turn into anything but. However, there is not one moment of maudlin sentimentality in this film. It is, rather, a film of survival and living by your wits. I know there are hundreds of thousands of young adults living in that same way in America's underbelly. One young adult who is verbally abused by her grandfather because of her obesity tells Charley, when he asks her why she endures the mistreatment, "When you don't have anywhere else to go you're kinda stuck." Charley is determined to not get "stuck."
But along with the ugly street life are the many elegiac western plains, deserts, and forests. There are sunsets and sunrises of heart-aching beauty and solitude bringing to mind 2015's The Revenant or 1992's A River Runs Through It. The austere soundtrack and sparse dialogue during Charley's trek make for an emotional impact that does not need a love interest — neither human nor even an animal. I very much look forward to Haigh's next film and I hope he can find source material as good as Willy Vlautin's.
Beautiful and Thought Provoking
Despite having the power of A24 behind it (the studio behind so many of our good dramas and horror films in the last several years), this gem was released in limited distribution and never went much further. I think people said "Another Bambi movie but with a horse." But that is such a mischaracterization. In July Lean on Pete will be out on DVD and streaming. I urge you to see it then, although not seeing the cinematography (by unknown-to-me Magnus Nordenhof Jønck) on a big screen would be a loss. I think the movie will stick with you a long while. Better yet, as I usually say, read the book and then you will very much want to see the film — and you will be pleased with it.
As a Christ follower, Lean on Pete forces me to wonder how I would have received Charley if he had been a panhandler on the street or stopped at my door asking for food or water for Lean on Pete. Would I have been the Good Samaritan? Or would I be the "certain priest" or the Levite? Prayers that the next time I would be the one who loves his neighbor as himself. Because I have failed that test many times.