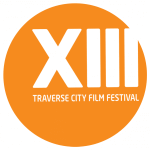 Another beautiful day in Traverse City and another day of mostly good movies at TCFF.
After the Storm
2016 (117 mins) Japan [Narrative Feature]
This highly thought of Japanese film has generated buzz and awards for the last year and I was excited to be able to see it on the big screen. A delicate story of a divorced couple and their son, it is dialogue heavy and requires patience. A son lives with his mother and his father can only see him once monthly due to being in arrears in alimony. Even though his father (played winningly by Hiroshi Abe of Still Walking), is a failed novelist who has never been able to write a follow-up after his moderately successful debut novel, has gambling problems and works for a sleazy detective agency which documents marital affairs, he is likable and tries to fulfil his role of father. His mother still has hopes of her son patching his marriage and his relationship with her grandson, and uses the occurrence of a typhoon to lure the two together for the night in her small apartment.
Played by Satomi Kobayashi, the grandmother is wonderfully clever and wise. The humor of her character keeps every conversation from becoming too maudlin. This wistful drama is filled with witty dialogue and regretful, existential reflections. Probably not for all tastes as some will find it infuriatingly slow, but I thought it was lovely. The characters all grow during the film to gain knowledge of themselves and the people they love. As one character says "I really just can't understand how things turned out like this." B+ (Subtitled)
Step
2017 (83 mins) USA [Documentary]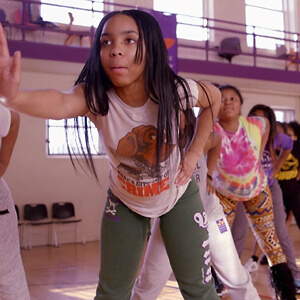 Step was reviewed earlier on this site by Josh Matejka here. I think I liked it a little more than Josh but I am always a sucker for sports docs about people lifting themselves from poverty. It was filmed over 4 years but really dwells on the seniors in an all-girl step-dance team at an inner-city, charter school in Baltimore. The issues of the Freddie Gray murder and riots, as well as Black Lives Matter are brought up as they should be due to their importance to the young people who live there. In addition, unlike the Ithaca: The Climb film below, disputes with team members were documented, just as were their resolutions.
The school's efforts to have their step team excel are documented although perhaps not as clearly as they could have been. But the impressive access of the relatively new director, Amanda Lipitz, to some of the background stories of these girls and the tireless effort of the school and their staff to get them into college makes for a feel-good story that people of any age can enjoy. Their dance routines are nothing short of amazing, even for an old fogey like me. We were lucky enough to have director Amanda on Skype after the screening to do an informative and pleasant Q&A.
A big hit at Sundance, Step has been making the rounds of film festivals since and is very polished getting ready for national release in August. Best movie of the day and strongly recommended. A-
Brigsby Bear
2017 (100 mins) USA [Narrative Feature]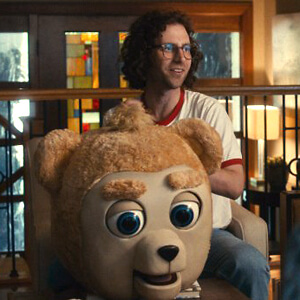 This is a film that is hard to describe but whatever you do, do NOT rely on the trailer to provide that information, as I find it to be completely misleading. Brigsby Bear was much talked about after being shown at Sundance and will soon be nationally. It tells the story of James, a 20s man who was abducted as an infant and reared by survivalist, paranoid parents. At the beginning of the movie he is rescued and reunited with his biological parents. For reasons not explained his abductors devised a show featuring a hard-molded bear of the title's name and filmed hundreds of episodes over James' lifetime on VHS videotape. The series created, for James, a false universe of space flight, magic, heroes and villains. James' unwillingness to let go of this integral part of his life provides the film's dramatic tension. Brigsby Bear is never predictable and, at times, quite funny.
Featuring a stable of Hollywood veterans such as Mark Hamill (Star Wars, of course), Greg Kinnear (Little Miss Sunshine & As Good as it Gets) and Clair Danes (Temple Grandin & Romeo + Juliet), the cast is very competent. Jorge Lendeborg Jr. (Spider-Man: Homecoming) who befriends James when he really needs one, is also deserving of mention. But the acting kudos belong to Kyle Mooney whose portrayal of the very strange James makes him likable enough to root for despite his unusual belief system. For me, not quite top tier but very enjoyable. B+
Ithaca: The Climb
2017 (108 mins) USA [108 mins]
Made by students from Central Michigan, this is a film solely for the high school sports fans among us. It was of special interest to me as the small town of Ithaca in the title is 30 miles from my residence and I have been the team physician for our hometown team on their field on many occasions. Their laudable distinction is winning the state title in their division for four straight years from 2010 to 2014 and losing in 2015 at the state finals. During that time they set a modern Michigan high school state record for consecutive wins at 69. After their one loss in 2015, they again won the state title after having a perfect season in 2016 giving Ithaca a five year record of 83 wins vs. 1 loss. Pretty incredible for a team that was a perennial loser 10 years previously.
The film was typical of sports documentaries showing one impressive play after another while the home town fans go crazy. Ithaca's coach for this time, Terry Hessbroke, is an interesting and likable guy who played for Ithaca in the 80s which is about as hometown as you can get. Amazingly, he got the head coach job after having a previous record of 2 wins vs 43 loses at an even smaller school in the adjoining county. The film's photography and sound are quite good but in documenting the entire five year saga was there never any controversy or jealously? Never any of the typical high school incidents with which the coaches had to deal? Not in this documentary… which makes one suspect a bit of whitewashing was performed. And the film school at Central Michigan University must not have gotten to the chapter on "Editing" as the movie was insufferably long, documenting every 38-0 victory (or similar) for no good reason. Soon my eyes glazed over. For the true blue high school football fan only. C
Looking forward to more great films tomorrow. Come join me next year!
---
For more coverage of Traverse City Film Festival 2017 see the rest of the articles in this series: Day 1, Day 2, Day 3, Day 4, Day 5, Wrap Up