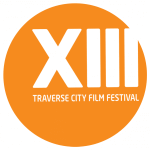 The second full day at the TCFF was an excellent one, dampened only by our planned family outing to view a movie on the "Nauti-Cat" catamaran being somewhat less than hoped for because of high winds. Despite the steady breeze the day was beautiful.
The Women's Balcony
2016 (96 mins) Israel [Narrative Feature]
This comedy with serious overtones tells of a small, close-knit temple in Jerusalem where, during a bar mitzvah, the women's balcony (where, as you might suspect, females are relegated) crashes to the floor causing serious damage to the building and some of the attendees. The person most grievously hurt in the collapse is the elderly rabbi's spouse who is in an extended coma. The loss of his spouse sends the rabbi into a PTSD-like fugue where he can no longer perform his duties. The men of the temple, in addition to rebuilding the structure, must find a rabbi to serve until theirs recuperates. They decide, at the urging of the new, much more conservative rabbi, and without consulting with the women of the temple, to build the women a "viewing room" — a closed off enclosure with just a window looking into the men's service. The indignant females of the temple are furious and finally reach their limit. At that point both touching and hilarious repercussions begin.
This film was edifying to me in showing that Jewish congregations can go through the same (senseless?) in-fighting that Protestants do, despite trying to worship the same God. The story shows how painful and difficult such differences can be, and how excruciating it may be to accept our differences and forgive. Almost every member of the cast (all essentially unknown in this country) is delightful and radiant. The portrayal of the joy of this small congregation at communal gatherings and celebrations is delightfully captured and reminds me, once again, of the magical bonding that occurs in small, faith-based groups. Additionally the humor is rich and precious due to a wonderful script by first time writer Shlomit Nehama. My ranking went down only a little for some annoyingly quick jump-cuts in the film's editing, A- (Subtitled)
L'Affaire Farewell/Farewell
2009 (113 mins) France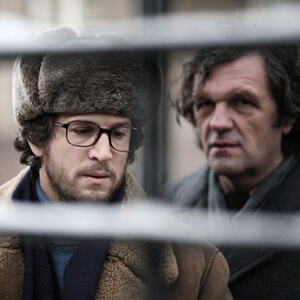 This slightly older French film about espionage occurring in the early 1980's was, for me, an unexpected gem. Supposedly "based on fact" it tells of the last days of the crumbling USSR when some within the country (led by Mikhail Gorbachev) were trying to institute a more liberal Communist party (Perestroika). in that setting a high-ranking colonel in the KGB (played in an incredibly able and heartbreaking performance by Emir Kusterica) begins to leak highly sensitive documents to the French, who in turn give them to the USA and President Reagan. The go-between turns out to be a completely untrained (for spy-work) French diplomat Pierre (Guillaume Canet of The Beach and Rock'n Roll — coming out next month) who lives in Moscow. Asked to do an errand for his superiors he is soon embroiled in a life and death game of espionage chess that endangers not only him but his wife and two small children. Throughout, Pierre struggles with the morality of what he is asked to do. William Dafoe also puts in a supporting performance playing the cynical, hard character he usually is given. And the music of "Queen" plays a part, which gave me a 70's smile. (My grandchildren think "Bohemian Rhapsody" is "dead" — google that description if you are older than 30.)
Opening with the gaze of a solitary wolf over a beautiful winter terrain ended by an unexplained gunshot (all to be "explained" at the end of the film), the movie is beautifully shot with frequent intense facial close-ups portraying the principles' mounting anxieties. Tense from the very beginning, this film keeps you on the edge until the very end when you learn (as in any good spy film or novel) that not everything was as it seemed. Seeing this film was a very gratifying experience for all (I watched this with my 14 year old grandson who loved it but had many questions for his father and me about that era.) Only a little bit is taken off my score for a terrible, caricature-like portrayal of Ronald Reagan. Both performances at TCFF were sold out due to the film's solid word of mouth. If you like spy films, John LeCarre, and James Bond… see it if you can find it. But as Pierre's wife told him as she pleads for him to drop out of the intrigue "You are no James Bond." A- (Mostly subtitled with some English)
Le Voyage de Fanny/Fanny's Journey
2016 (94 mins) France, Belgium [Narrative Feature]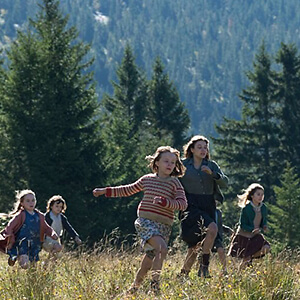 Another "Based on Fact" depiction, this invigorating film tells of WWII era Fanny Ben-Ami and her heart-pounding attempt at 13 years of age to shepherd her two younger siblings along with eight or so others over the French border to Switzerland — all to escape being rounded by the Nazis. (In truth Fanny helped 23 children escape.) Based on (SPOILER) Bon-Ami's autobiography, director Lola Doilion states everything in the movie is true. If so, Fanny's life is nothing short of heroic. This movie is wholly dependent on the performances of the children, some quite young. They do wonderfully. In addition, the photography in the French and Italian Alps is breathtaking. Some may liken it to The Sound of Music but this is a much more realistic and dark film (and with no cheery music!) about Jewish children being treated as less than human, except for the occasional kindnesses shown by civilians who became involved at their great peril.
The film is remarkable for showing that Fanny was, many times, undecided and frightened but lived up to the last words given to her by an adult… to not reveal her fear to those following her. This film is marketed as a "family film" but be careful. If your child is easily made insecure, they should not, in my opinion, see it until they are at least 13 or 14 years old. There will be many questions after about why Jews were rounded up and if that could happen again. But every adult should see this wonderful film to remember the horrors of the Holocaust (none of which are shown on screen.) It is perplexing as to why this film has not been more widely acclaimed in the US, despite winning acclaim in many film festivals. Perhaps this country's phobia about subtitled films is to blame? Best movie of the day! A (Subtitled)
City of Ghosts
2017 (90 mins) USA [Documentary]
A very worthwhile film about the organization Raqqa is Being Slaughtered Silently (RBSS) and the natives of the ISIS-overtaken city in Syria, this film shows those who are still in Syria (disguised) and those who have fled but still working for RBSS. Making plain that ISIS has a price on their heads, they lay low but continue to show how ISIS has changed their quiet and happy Raqqa into a city of death and fear… filled with the ghosts of those who resisted. Be forewarned, there are many shots of brutal executions. The bravery of those who continue to resist and report cannot be minimized as many of their colleagues have been eliminated by ISIS, even those living outside the country.
Unfortunately what you need to know could pretty much be gleaned from the 2:26 minute trailer and I found the film to be highly repetitive with lots of talking heads interspersed with grainy film of unspeakable deeds. I would recommend this film (over the trailer) only for those who have a strong stomach and a special interest in this heartbreaking tragedy. B (English and Subtitled)
The Red Turtle
2016 (80 mins) France, Belgium, Japan [Animated Narrative]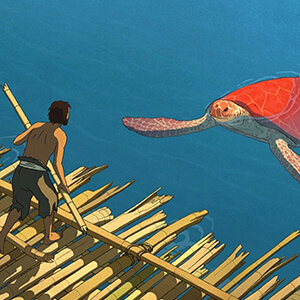 A fable set to wordless (but not soundless) animation, this film is one-of-a-kind. A story of a shipwrecked man who finds himself on a small deserted island with little fauna other than for the crabs who provide the only humor in the film, The Red Turtle is open to several interpretations. The man (never named) makes attempts to leave the island on rafts but each time his raft is destroyed by some unseen presence below that thumps the bottom of the raft until it falls apart, forcing him to swim back to the shore. The man finally finds that the unseen destroyer of his rafts is a huge red turtle. He becomes enraged to the point he drags the turtle on shore, beats it on the head and overturns its shell to watch it die. Coming to regret his actions, he attempts to revive the turtle but apparently is unable to do so… or not?
From this point forward the film takes on fantastical proportions with the spirit of the turtle (?) saving the man from the insanity of a forgotten outcast. (There is no "Wilson" here.) I saw this with my grandsons and their parents and we all came away with somewhat different interpretations of what we had seen. Nominated for an Academy Award for Animated Films, The Red Turtle will leave you thinking and guessing. The animation itself is serviceable but not spectacular. The film is also too long by 20 mins, and the last 10 minutes become dreary. Other than for the "turtle abuse" (is that what the turtle wanted to happen?… why would he not let the man leave and why did it allow itself to be dragged on shore?) there is nothing objectionable for children but they may be bored. If you like slowly thoughtful films open to many interpretations, this may be your cup of soup. (Smile)
[As above, some of you know that my family and I were to go sailing on a catamaran (The "Nauti Cat") that has a sound system and paired viewing screens for this film. Unfortunately the wind was brisk (and cool) which caused 5 foot waves on the Grand Traverse Bay and, in turn, restricted us to watch while tethered to the pier. Disappointing but better than being swept overboard (a "castaway"). There is always next year.] B
Looking forward to more great films tomorrow. Come join me next year!
---
For more coverage of Traverse City Film Festival 2017 see the rest of the articles in this series: Day 1, Day 2, Day 3, Day 4, Day 5, Wrap Up