I proposed to my wife in a coffee shop. I dressed in a suit and sang her a song in front of strangers. The ring was inside a coffee cup. I gave it to her on one knee. I did these things because I was asking her to marry me, and marriage is important. I knew that even then as a clueless college student, and I know it all the more today.
The characters in 45 Years have more experience than most. The film's title refers to their 45th wedding anniversary. They're planning a party to celebrate the occasion, but an unexpected discovery sends their relationship spiraling a week before the event. The discovery isn't infidelity or scandal, just a reminder from the past. Yet a crack forms through a once steady foundation.
45 Years reminds us of the importance and fragility of marriage in an age where death doesn't part as much as following our heart.
Portrait of a Marriage
45 Years is a portrait of a marriage. There is little plot to speak of, though it's as riveting as the most hair-raising thriller. The tension lies not in action or body count, but in piercing glances, hushed words, and quiet bombshells of revelation. Andrew Haigh directs with mature restraint. He takes his time, reveling in long shots and close-ups. But he knows when to go in for the strike. A static scene of a character clicking through a slideshow took my breath away.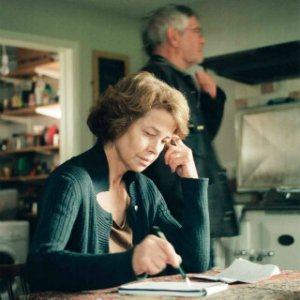 The film is impeccably acted by Charlotte Rampling and Tom Courtenay. They play Kate and Geoff, the retired couple whose marriage we dissect. These are lived-in performances. We feel the history between them, the built-in routines and stale arguments. We feel their love, a secure friendship that only 45 years together can bring. And then the pain, as the past threatens to destroy all that time has painstakingly created.
Rampling is the lone Oscar representative for 45 Years. Her nomination makes sense, as the film takes place largely through her eyes. But the movie deserved nominations in all the major categories, especially Best Actor for Courtenay. How strange to nominate one without the other. The performances are special because of the way they play off each other. Their relationship was so real I felt guilty for eavesdropping.
This is aided by an exceptional script. Haigh imbues his characters with extraordinary depth, but his dialogue is equally remarkable. The characters talk about interesting things, like how men realize the importance of things later than women, and how much harder it is to make choices the older we get. Geoff expresses the latter thought as he reflects on all that has come from his choice to marry Kate in his youth. "The choices we make when we're young are pretty bloody important!" he exclaims.
The Sanctity of Marriage
What did Adam think when he looked at Eve for the first time? There she was, naked and beautiful. And there was God the Father, giving her away. The two became one flesh and were charged with the task of subduing creation as partners, as lovers, as friends. This is marriage.
We see the beauty of this in 45 Years. Geoff and Kate are comfortable with each other. There's a difference between how they interact with their friends and how they interact with each other. Marriage is a return to the Garden. No pretense. No covering. They bear each other's burdens. They laugh. They dance. They cry. This kind of intimacy is founded on commitment.
Commitment, especially the life-long sort, has become an antiquated notion in modern society. Like Babe Ruth to Benny in The Sandlot, the mantra of our world is: "Follow your heart, kid, and you can never go wrong." The Bible has a much different outlook on the heart. Jeremiah 17:9 says "The heart is deceitful above all things, and desperately sick; who can understand it?"
Relationships today last as long as the feelings last. When a path comes along that looks enticing, we follow our heart, no matter who is left behind. When the new path doesn't work out, we follow our heart again, creating more destruction in our wake. Pieces of ourselves get scattered in the wind, leaving us lonely, desperate, and lost. Babe Ruth was wrong. The evidence is all around us. Thankfully, there's a solution to the madness: commitment. Two people vowing themselves to each other for life, regardless of feelings, regardless of circumstances – 'till death do us part. This is marriage as God intended. Freedom is found in giving it away.
Christ and the Church
The igniter of conflict in 45 Years is a letter. A simple piece of paper possesses the power to destroy four and a half decades worth of companionship. The letter reminds Geoff of a woman he dated before Kate. The woman is no longer alive, but her presence enters the house nonetheless. At first, Kate is sympathetic. But as Geoff becomes increasingly obsessed with his past, Kate becomes jealous. Who can blame her?
Oprah Winfrey once expressed revulsion at the idea of a "jealous" God after listening to a sermon on the subject. She said, "God is jealous of me? Something about that didn't feel quite right in my spirit…and that is where the search for something more than doctrine started to sir within me." The word jealousy is primarily used in negative contexts, which indeed makes it strange in relation to God. However, marriage can be a helpful symbol in conveying the positive aspect of jealousy.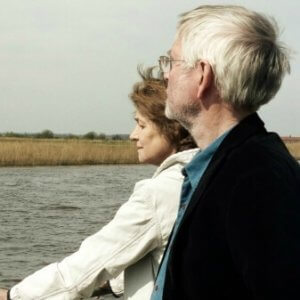 In fact, marriage is a useful symbol for the entire spectrum of our relationship with God. The Bible specifically compares marriage to Christ's relationship with the church. A healthy walk with God is about relationship, not duty. It thrives on communication, intimacy, spontaneity, and honesty. And above all else, it must be protected from outside threats.
Idols provoke God's jealousy, not because he's psychotic, but because he loves us – like Kate loves Geoff. She wants to protect their marriage. She longs for his undivided attention. She feels him pulling away and urges him to remember the promises they've made. God's jealousy, like all of his traits, is rooted in love.
Not everyone is called to marriage. In fact, the Apostle Paul seems to think singleness is a better road. And yet, all of us can benefit from the symbol marriage provides. How important it is, then, for married couples to hold fast to their vows. These enduring partnerships are a living picture of God's love for his people.
Marriage Is Hard
45 Years doesn't provide us with a tidy ending. We're left to fill in the blanks on Kate and Geoff's final fate. Does love and commitment win out in the end? I hope so. Not just for their marriage, but for all marriages. Following our heart isn't working, and the consequences have been devastating.
And yet, marriage is hard. We are sinful, selfish people, prone to wandering. Living together with another human being requires copious amounts of grace. A healthy marriage is nothing more than a union of two forgivers.
Near the end of the film, Geoff gives one of the sincerest, heartfelt monologues I've heard in ages. He expresses his love for Kate in an extemporaneous public speech. Choking back tears, he says "I love you very much…thank you for standing by me through all these years and putting up with all my nonsense…long may it continue."