As iconic as the opening musical blasts of every Star Wars film are, the 20th Century Fox fanfare that (until recently) precedes it is arguably just as iconic. The composer of that tune was the inadvertent patriarch film music's first and only dynasty: Alfred Newman. The Newman name can be spotted everywhere in the Music Department credits, even in the "Recorded at" credit. The Newman Scoring Stage in L.A. are where many Hollywood film scores are recorded.
In previous Composer Spotlights, we've shone the spotlight on two composers who were already halfway in it. Those whose music managed to be recognized beyond their medium. This time, we're focusing on someone who often sits in the shadows of the spotlight hogs, but whose music has transcended his name and broken into fresh musical realms. His name is Newman, Thomas Newman (cue Skyfall and/or Spectre score).
Chip Off the Ol' Block
As a young lad, Thomas found music pretty boring. His father, as mentioned earlier, had a fairly illustrious musical career. As a result, music was a rather banal aspect of T. Newman's young life. "I was more interested in playing baseball than I was in being musical," he claims in a TV Special about his family. It wasn't until his father's unfortunate passing when he was 14 that he started toying with the idea of following Alfred's footsteps. "It never occurred to me to think creatively before…I don't know if it was me trying to fill in some empty shoes or what. I have no idea."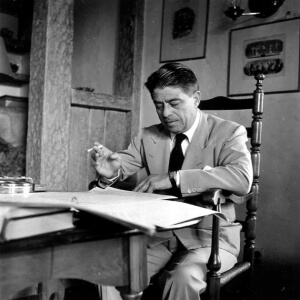 Thomas was a fairly shy kid, so asserting himself into the competitive world of film music was daunting. Certainly, his family legacy had to have helped him find the connections he did, including Stephen Sondheim, an early mentor, and John Williams, a family friend whom Tom's dad had known since he was a studio pianist. But despite the relative ease he had in breaking in to what is now his career, he found it pressuring to have the expectation that his work will resemble that of his family's. "It's a big umbrella…You tend to be known as part of the Newman family as opposed to just Tom Newman," he muses. This is where he started getting experimental. His shyness mixed with his desire to differentiate himself fused together to form one of film score's most unique voices.
Adding Layers
The T. Newman sound is bittersweet, often stoic, often flowery, always multilayered, sonically and emotionally rich, with contrasting emotions and ideas. His aesthetic is pumped with lush strings, serene pianos, twanging dulcimers, atmospheric synth undertones, and many unusual sounds layered in for good measure. On almost every score, he starts with a ground work, a piece written traditionally but not fully realized just yet. Then, he gathers a small group of musicians, often handing them very obscure instruments, and records their experiments, finding any odd sound they could possibly make from them. "It always makes me feel like I have something in my pocket, ideas I can pull out," he claims in an article for the British Film Institute.
"I think the joy of being musical translates. So the more fun I can have, the better off I think the music ends up being. The minute I try to work at it and be 'the great composer,' I'm typically the worst."
He is fully capable of writing for a large orchestral ensemble, and when he does, the results are truly beautiful, but for the most part, he enjoys taking advantage of what modern technology has allowed him to do with music. He overdubs to his heart's content. This process is a big part of what makes Thomas' music so unique, but it also has the tendency to make many of his scores sound similar to each other, often downright indistinguishably. I don't always get excited when I hear Thomas Newman is scoring something new, cause I can often predict accurately what the score will sound like.
Authentic Newman Connection
However, that doesn't stop the scores of his that do make an impact from making any less of one. On the contrary, it means that when he nails it, he really nails it. Thomas Newman has this ability to capture acutely specific emotions in a way that makes you go, "I didn't know music could describe this feeling." Scoring a film is a heavy workload, and sometimes you just gotta make it easy on yourself by developing a pattern to follow each time, and maybe even some pre-recorded ideas to pool from. But there's no fun in creativity if your only goal is to play it safe, make people happy, and go home. What's admirable about T. Newman's work, despite its derivative nature, is that he has found a way to both service the films he's paid to service and satisfy his particular artistic interests.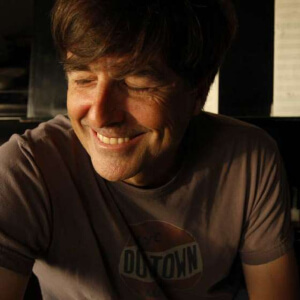 The latter objective may sound selfish or arrogant, but it is often the most personal works of art that have the most power. I don't believe Mr. Newman is trying to draw attention to himself by making his scores different from the rest. I personally think that if an artist's objective is primarily just to find his or her own sense of joy in the process of creating, the maximum impact is made. Authentic expression is what we can connect with the most. What's more meaningful? Someone telling you something they think you want to hear? Or someone telling you how they feel, just for the satisfaction of letting you hear it? When an artist creates for his or her self, for no other reason than to look at their creation and say, "This is good." They're taking part in the gift of creativity God gave us. And we can relate that experience with the creative ways He interacts with us and the world.
Favorites
As always, these choices do not necessarily reflect the most significant work of Thomas Newman's career. Rather, these are the most significant ones for me as a lover of his music.
I've chosen 3 favorite tracks for each score. These were difficult choices to make — the full album experience is always best — but I wanted to give you, the reader who may or may not know or care much about film music, a palatable recommendation if you are curious enough to check out these scores for yourself.
Lemony Snicket's A Series of Unfortunate Events (2004) — A quirkily grim score that is one of the most significant influences on my imagination ever. I listened to this score while reading the book series when I was young, and the score uncannily captures the oddly specific tone of the books (or at least my interpretation of the books' tone, as the success of the new Netflix show has proven that many fans read the books differently than I did). This score helped show me early on how to find hope and a playful sense of humor in the bleak absurdities of life, and I am forever grateful for that. (3 Favorites: "Snaky Message," "The Letter That Never Came Back," "Drive Away (End Title)")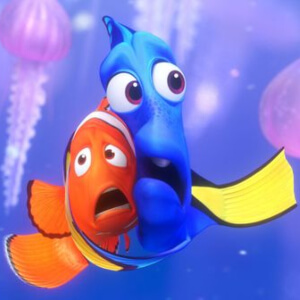 Finding Nemo (2003) — The first score album I ever had on CD. This score is the reason you're reading this right now (for better or worse). This score is deeply ingrained into my DNA. Listening to it feels like coming home, but I don't think I'm listening to it with rose-colored hearing aids. It's an ingenious score that also captures very specific feelings. It has a range from tranquil, to fluttery, to bold and adventurous. If you've ever gone home and taken a nap soon after a long swim in the ocean, this score gives you that feeling of phantom waves gently tossing you back and forth. (3 Favorites: "Darla Filth Offramp," "Haiku," "All Drains Lead to the Ocean")
Little Women (1994) — This score is what I think heaven sounds like. One of the rare entirely traditional orchestral T. Newman scores in existence, and it is flat out gorgeous from start to finish. Its beauty is beyond words. (3 Favorites: "Orchard House (Main Title)," "Snowplay," "Amy Abroad")
Wall-E (2008) — T. Newman's second animated film after Nemo, working with the same director and animation studio. First he went down into the ocean, so, naturally, his next step was to go up into space. This score had a lot of weight on its shoulders given its central lovestruck protagonists being nonverbal robots. But being the master of capturing distinct emotions that Newman is, he carried that weight masterfully. He was also able to take advantage of the futuristic setting of the film to experiment with many quirky electronic sounds. (3 Favorites: "The Axiom," "72 Degrees and Sunny," "Define Dancing")
Finding Dory (2016) — This score really means a lot to me. It came at a time when I felt like the best years of my life were behind me, and my focusing issues were keeping me from building a future. The story of a fish learning to deal with her memory issues and retrieve something she lost was very comforting to me in this moment. And the score takes you through this emotional arch perfectly. And what's more, it's delivered through a musical world that, as mentioned in my Nemo thoughts, is deeply nostalgic for me. Yet, it took that nostalgia and built something new out of it. It helped show me that it's never over. Just focus on the next step in front of you and eventually, you'll find your way home. (3 Favorites: "Finding Dory (Main Title)" "Jewel of Morro Bay," "…Shells")
The Shawshank Redemption (1994) — I can listen to the "Shawshank Stoic Theme" on repeat for a long, cathartic while. That particular track is a masterpiece, but the rest of the score has such tender beauty to it, as it takes the listener from quietly mournful to bold and liberating. It gets better on repeat as I notice more and more subtleties. (3 Favorites: "Shawshank Prison – Stoic Theme," "Brooks Was Here," "Shawshank Redemption")
"To be truly creative you have to be open to anything, and that lets some bad stuff in…Some of what you write is going to be flatly rejected, cruelly rejected, or respectfully rejected, but what are you going to do about it? You still have to remain open to the joy of creating."
The Player (1992) — An early one and a weird one. This is T. Newman at some of his most experimental. Lord knows the origin of most of the sounds that can be heard within, but it all comes together to create a very unique, often noir-ish mood. ("Funeral Shark," "St. James," "Main Title")
Skyfall (2012) — His first true action score. When Sam Mendes, a frequent Newman collaborator, was announced as director of the next Bond film, there was much doubt that he would go with his typically somber composer. When he did go with him, there was much excitement. Thomas Newman will really have to come out of his shell with this one. The result was… a bit disappointing. Cause it sounded like a T. Newman score with action-y interludes. On repeat listens, however, I grew to really appreciate how he was able to take his sound and bend it so it makes sense in Bond's world. As a Newman score, it has a bit more grit than usual. As a Bond score, it has a bit more emotional depth than usual. It's flawed edges make it interesting. (3 Favorites: "The Chimera," "Skyfall," "Adrenaline")
__________________________________________
The Newmans Interview (TV Ontario): https://www.youtube.com/watch?v=k-L5VfaNOO4
Thomas Newman: a Composer's Life in Hollywood: https://www.bfi.org.uk/news-opinion/news-bfi/interviews/scoring-mr-banks-composers-life-hollywood
Thomas Newman — Notes on a Score Interview (Wall-E): https://www.youtube.com/watch?v=sg7dzJgljqY
Thomas Newman — The Sad Score Interview (Lemony Snicket): https://www.youtube.com/watch?v=YRqWQ1n5qhA
Thomas Newman | Full Q&A | Oxford Union: https://www.youtube.com/watch?v=oeHNUJ-hNmE&t=1436s