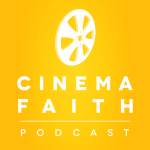 Welcome to the first Cinema Faith podcast in two years! Covid changed everything and Cinema Faith was no exception. Our website has been mostly dormant since March of 2020, but it's time to go back to the movies. We begin with the most acclaimed film of 2021: The Power of the Dog.
Writer/Director Jane Campion is best known for 1993's The Piano starring Holly Hunter, Sam Neil, and Harvey Keitel. Her movies are often quirky explorations of humanity and sexuality, and The Power of the Dog is no exception. Benedict Cumberbatch stars as Phil, a rancher rife with bigotry, anger, and toxic masculinity. His brother, George (played by Jesse Plemons), is the exact opposite. When George marries a widower named Rose (Kirsten Dunst) and becomes a father-in-law to her teenage son Peter (Cody Smith-McPhee), he brings them both to live on the ranch against Phil's wishes. The conflict between them builds throughout the movie leading to a final confrontation that will change their lives forever.
Join Jon and Tim as they discuss what they've been up to the last two years, working from home, the famous toilet paper shortage, virtual learning, Tim's move to Missouri, why Tom Hanks is our national barometer, the There Will Be Blood connection, Jon's love for Cool Runnings, the power of place, how our relationship with movies has changed post-Covid, Jonny Greenwood's prolific film scoring, Benedict Cumberbatch's range, the beauty of new love, how we're all hypocrites at heart, the differences in how we see, why people aren't one thing, the masks we wear to survive, and how Tim's take on The Power of the Dog changed Jon's opinion of the entire movie.