Here we go again. The Oscar nominations were announced on January 13 and everything felt familiar. Most of the nominees were deserving, but some of them weren't. A handful of notable snubs caused Film Twitter to explode, specifically Adam Sandler for Uncut Gems, Greta Gerwig for Little Women, and Awkwafina for The Farewell. Awkwafina's snub was especially painful because she won a Golden Globe for her performance, and it once again highlighted the lack of diversity in the major categories. The only person of color in all four acting categories was Cythia Erivo as Harriet Tubman. The irony speaks for itself.
Some notable figures on social media declared this year to be the last straw and vowed to boycott the ceremony. I sympathize with their decision completely, but it's not one I can make. The Oscars are built into my DNA. I've been watching them since I was a wide-eyed little boy in an over-sized t-shirt and underwear who didn't understand anything that was happening, but knew it was important. And despite what Joaquin Phoenix would have us believe, the Oscars are still important. They're a symbol of excellence dripping with meaning for both the public and the industry that still opens up new doors and possibilities for everyone who receives one. And that's precisely why people are right to fight for change. We need a younger, more diverse Academy that will make better choices going forward because we want everyone who's earned the spotlight to get the recognition they deserve. If the Oscars didn't matter, we wouldn't be upset. We care precisely because they do.
And it's for that reason that we now turn our attention to this year's crop of nominees. Below is part one of our Oscar picks for the top ten categories of the race. These aren't necessarily the films that will win; these are the films that should win. We'll leave the prediction game to those in the know. What matters to us more is who is worthy to take home the gold.
We hope you'll join us for the big night on February 9! Our Twitter feed will be going strong as we process the wins and losses in real time. And for those who will not be watching out of protest, we support you. You're right to fight for change, and we'll continue to do the same. Hopefully there will be a day when we can all breathe a sigh of relief as the nominees are announced. When people of color are represented across the board and the right people are nominated in every category. Just as in politics, it's only a matter of time. The tides are changing and a new generation is moving into the seats of power and influence. Hopefully then, those who have stepped away for a time will come back, and we can all join together as one to celebrate another glorious year at the movies.
Best Original Screenplay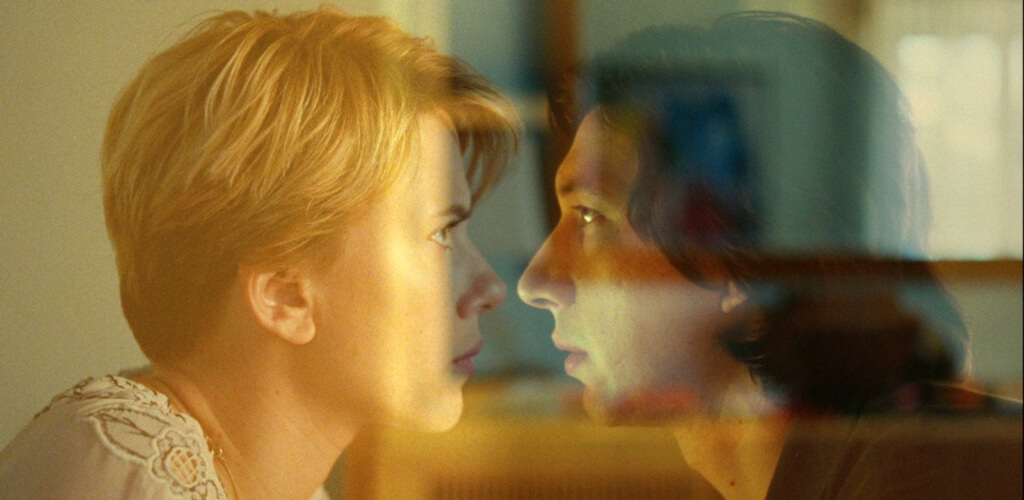 1917
Knives Out
Once Upon a Time in Hollywood
Parasite
Marriage Story
1917
1917 is a monumental cinematic achievement, but it's not perfect and that's precisely because of its script. While the technical elements astound at every turn, there's a human component that's lacking. On paper, everything seems to be in order. There are emotional moments built in along the way, but they fail to grab the heart. I'm an easy crier at movies, but I didn't tear up once. The problem starts with the underdeveloped characters at the center of the story. For as much time as we spend with Blake and Schofield on their journey, we never feel like we really know them. Great screenwriting has the ability to endear us to characters with minimal screen time so that when the big moments come, we feel them to our core. The main characters of 1917 seem more like hollow stand-ins that are there to move us along from one visual spectacle to the next. Furthermore, the ending leaves an anti-climactic aftertaste. There should have been more meat on the bones in the final confrontation with Colonel MacKenzie. We spend so much time getting to that room only for it to be over before it really begins. There's so much to love about 1917, but the script holds it back from true greatness.
Knives Out
Rian Johnson clearly had fun writing Knives Out, and that joy is contagious. The movie feels like the Oscar season equivalent of a summer event film. There was a palpable energy in the room at the screening I attended. The audience roared with laughter at all the right moments and you could almost hear every brain in attendance turning over the evidence to figure out the central mystery. With as many characters as there are in the story, it's incredible how Johnson is able to give each one a distinct personality so that we're able to hold them together in our mind without feeling overwhelmed. That said, the script has its flaws. For one, it's excessively wordy. I realize the mystery genre lends itself to long explanations of the facts, but there could have been more economy at play. I'm not in a hurry to re-watch the movie only to hear pages and pages of dialogue about things I already know. I also think the final reveal is a bit of a let-down. With the amount of build-up leading up to that final act, I was expecting a Sixth Sense-style twist that turned the entire movie on its head. What we ultimately receive isn't that, but it's at least enough to feel like we got our money's worth. Flaws aside, the Knives Out theater experience was one of the true highlights of 2019, and the amount of work it takes to achieve that visceral reaction is worth an Oscar nomination alone.
Once Upon a Time in Hollywood
The script for Once Upon a Time in Hollywood is certainly the most memorable of the five nominees which is why it will probably win the Oscar, but that doesn't mean it's the best. Quentin Tarantino has always had a way with words. His conversations are like mini-movies onto themselves circling around and building in intensity until they reach an explosive climax. The words themselves don't seem to matter as much as the way they build on each other for maximum effect. I don't remember a particular line from Brad Pitt's eerie exchange with Dakota Fanning at Spahn Ranch, but I remember feeling more nervous with each word they spoke. Still, there always seems to be a 15-year-old boy inside of Tarantino trying to burst through the page — his best scripts reign him in, while his worst scripts let him loose. Once Upon a Time in Hollywood does a little bit of both. The Spahn Ranch scene is a master class in subtlety and suspense, but the movie's over-the-top ending is Tarantino tapping into his juvenile id. That's not to say I didn't enjoy it. There's still no one who writes movies like Quentin Tarantino. Through all his flaws, Tarantino's scripts are more unique, memorable, and exciting than the majority of screenplays released on any given year. Guilty pleasure or not, Once Upon a Time in Hollywood is one of my favorite experiences of 2019.
Parasite
Parasite is a hard script to judge because we're receiving the words second-hand, but the English subtitles on the screen are as precise, punchy, and effective as the movie itself. There are lines in Parasite that are laugh-out-loud funny and lines that cut sharper than a knife. And the themes of class warfare and inequality require no translation at all. One of the characters says in reference to a rich family: "They're rich, but nice." The recipient shoots back: "They're nice because they're rich." Bong Joon Ho's writing feels tailor-made for this particular moment in history, and he does it all through an entertaining story that manages to be satirical, hilarious, suspenseful, moving, and tragic all at the same time. When Joon Ho accepted his award for Best Foreign Language Film at the Golden Globes, he said "Once you overcome the 1-inch-tall barrier of subtitles, you will be introduced to so many more amazing films." When the subtitles are this good, who can disagree?
Marriage Story
The writing in Marriage Story is deceptively disguised. The characters feel so real that it takes a moment to remember there's a script behind it all instead of just a camera following two people in their everyday lives. But once we do, we realize it's the words that form the foundation of the movie's true power. The film opens with Nicole and Charlie sharing what they love about each other. The words combined with the visuals melt our hearts from the jump, only for them to be torn out immediately at the true beginning in the therapist's office. The first scene with Scarlett Johansson and Laura Dern is another stunner. Johansson's acting is impeccable, but it's even more impressive how Noah Baumbach is able to reveal everything that's wrong with the titular marriage in just a few minutes of dialogue. In a single scene, we grasp both the scope of the problem and the lack of solutions. That precision of emotion and economy is something 1917 and Knives Out both could have benefited from. Speaking of Laura Dern, she gets the flashiest lines in the script with her Mary and Joseph diatribe. That single moment is no doubt what earned her an Oscar nomination, and it speaks once again to how Baumbach's writing manages to elevate each performance. And of course, there's the scene we remember most where Nicole and Charlie finally let out all their venom at each other and we see the destructive fire of the tongue that James warns us about on full display. Words are spoken that can never be taken back, and the hate melts them both. And yet, like all great writing, Baumbach never calls attention to himself in the moment. We remember the writing only afterward. During the movie, we're simply witnesses to two lives as they stumble through a nightmare.
Best Adapted Screenplay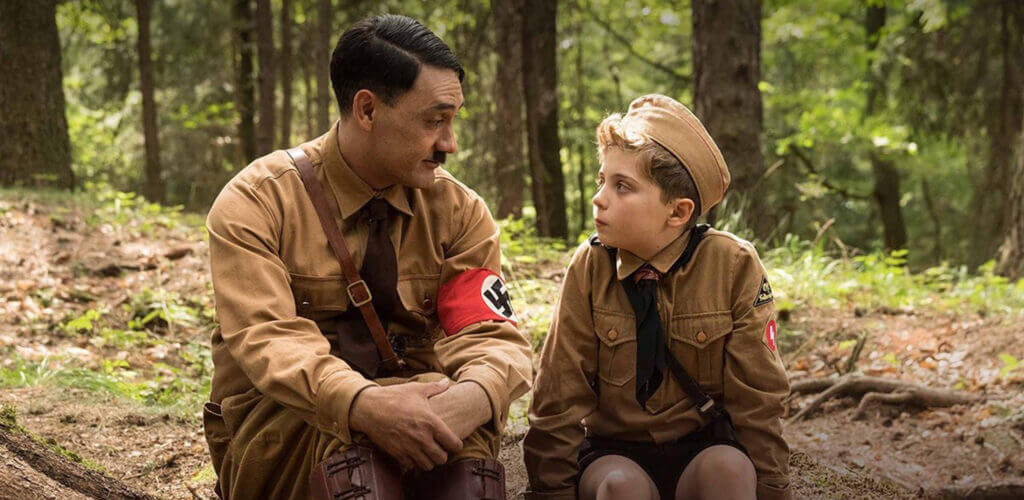 Little Women
The Two Popes
The Irishman
Joker
Jojo Rabbit
Little Women
I wanted to love Little Women. Greta Gerwig's Ladybird was my favorite movie of 2017, and I felt certain her next writing/directing gig would be another masterpiece. Unfortunately, Little Women fails to reach those heights, and that's in large part due to the structure of Gerwig's script. Rather than a straight-forward telling of the story, Gerwig jumps back and forth between the present day and the past. This has an unexpected payoff at the end, but during the majority of the running time the only result is confusion. Every time a new scene would open, I wasn't sure which time period we were in. Thankfully, Saoirse Ronan eventually cuts her hair short making the distinction easier, but it shouldn't take that much work. The constant switches prevent us from settling into a natural rhythm which is a true shame because the other ingredients are perfect. Gerwig's characters are beautifully written and acted to perfection, and there's a truly compelling story at the heart of the movie. There's also a stirring feminist message which is unfortunately undermined once more by a muddled reveal at the end. Little Women is still a good movie, but the choppy screenplay keeps it from being a great one.
The Two Popes
There's always someone lamenting how Hollywood hates Christianity. And yet, every year movies like The Two Popes come along tackling deep questions about faith, goodness, and truth. But whereas most movies take on these themes implicitly, The Two Popes goes straight for the jugular. The central characters of the movie — Pope Benedict and Pope Francis — represent two sides of a divide that anyone who studies theology can relate to. Pope Benedict is the conservative who believes in rigid dogma and tradition. Pope Francis is the progressive who believes in re-examining the faith and leaving room for something new. Their conversations together are some of the richest scenes of dialogue all year, aided of course by outstanding acting from Anthony Hopkins and Jonathan Pryce. Unfortunately, mid-way through the script takes a distracting detour into Pope Francis' past and never fully recovers. I wish the entire film had just been one long conversation between the two in real time like a theological Before Sunrise. The magic of the movie is seeing two people on completely opposite ends of the spectrum try to find grace and common ground. What could be more relevant in our hyper-polarized age?
The Irishman
The Irishman is a long, dense screenplay filled with historical characters and facts that washes over us like a fog only to dissipate in a flash when someone gets shot in the head. After 3 ½ hours, I still can't fully explain who Jimmy Hoffa was, but I do know that Al Pacino gets to yell a lot and that's always a good thing. The best scenes in the movie are the little moments where Robert De Niro's droning voiceover is interrupted by something explosive happening. The obvious examples are the bursts of violence that happen out of nowhere, but even more compelling are the dialogue-led moments where time stops and the tension rises like when Al Pacino gets annoyed with a mob boss for being late or accidentally offends Robert De Niro by cursing out everyone in the room he happens to be in. Pacino runs after him like a scared puppy dog — "I didn't mean you!" There's a subtle humor at work in that scene and others that catches us by surprise just as much as the unexpected gun shots. But the real magic trick is how all of the random scenes from the past narrated by De Niro add up to a cumulative power when he's sitting alone in a nursing home with nothing left to do. Suddenly, the blur we felt moving from one event to the next is pierced by a deafening silence, and we realize it didn't mean anything after all and that's the entire point.
Joker
One of the first lines of dialogue Joaquin Phoenix utters in Joker is "Is it me, or is it getting crazier out there?" I can't think of a more relevant question in 2019. And yet, Joker isn't set in the present day. It's not even set in our world. That's the power of Todd Phillips and Scott Silver's screenplay. It's both old and new, a comic book movie and a regular movie. Gotham could be present day Chicago and none of the effectiveness would be lost. Much has been rightfully made about Joaquin Phoenix's performance, but he's just one great element among many. Phoenix couldn't have achieved the heights he did without a masterful script backing him up every step of the way. I'll never forget the look in Phoenix's eyes when he asks his boss "Why would I steal a sign?" Or the desperate words tumbling out of his mouth when he pleads with Bruce Wayne in the bathroom of the movie theater. Or the late night show near the end where Phoenix and De Niro dance in dialogue around each other with rising intensity until the dam finally bursts. Every memorable moment has a masterful script behind it, and that's why Joker is one of the best movies of the year.
Jojo Rabbit
I still can't believe Jojo Rabbit exists. Taika Waititi's script is the kind of challenging project that a script reader chucks in the trash by page 3 because movies about a kid who wants to be a Nazi egged on by his imaginary friend Adolf Hitler don't get green lights. And yet, by some miracle Watiti's script did get made, and I'm so glad it did because it's one of my favorite movies of the year. In the wrong hands, Jojo Rabbit could have been a disaster. Watiti wants us to laugh at Nazis, but also see their evil. He wants to satirize racism, but also take it seriously. It's an impossible balance that he somehow pulls off with flying colors, and the precise script is the reason why. Watiti's writing is perfectly mapped out for maximum emotional impact. The first act is hilarious, but our laughs are nervous because we're not sure where it's going. Then Jojo encounters the Jew hiding in his upstairs bedroom and suddenly everything comes into focus. From there, Watiti pulls back on the main characters and we see what's really going on underneath the surface. We also witness a beautiful coming-of-age story as Jojo forms a friendship with everything he's supposed to hate. Watiti looks evil straight in the eye while still maintaining beauty, warmth, and laughs. If that's not great screenwriting, I don't know what is.
Best Visual Effects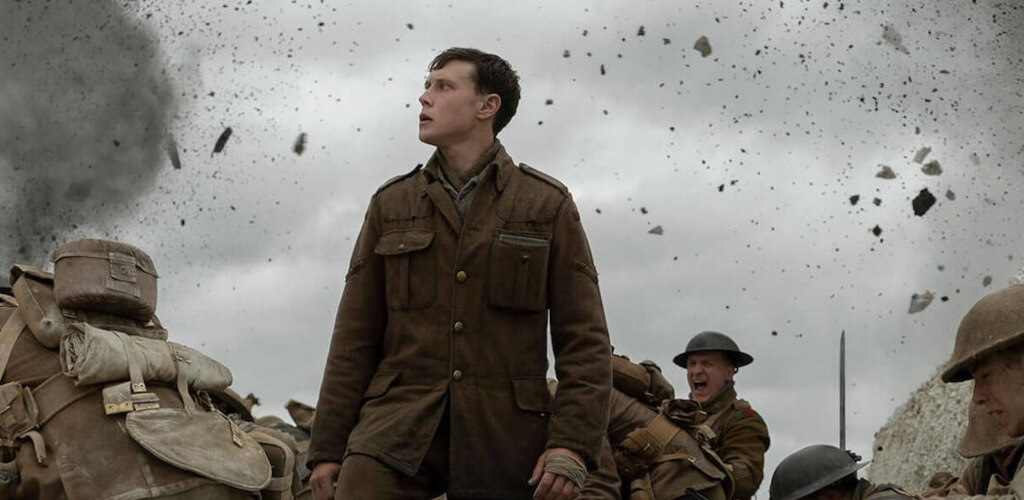 The Irishman
The Lion King
Avengers: Endgame
Star Wars: The Rise of Skywalker
1917
The Irishman
For some reason, one movie always seems to get nominated in this category that has some of the worst visual effects of the year. The Irishman is this year's entry in that regard. Much ink has been spilled about how the advances in de-aging technology are going to transform movies forever. Forget Indiana Jones 5 — let's have an Indiana Jones prequel with Harrison Ford in his 20's! Not so fast. The technology just isn't there yet. If no one else is going to say it, I will: Robert De Niro's younger self looks terrible in The Irishman. I can't believe this is the final product of a studio movie directed by Martin Scorsese. There's an unnatural digital look to all of his movements, and worst of all are his bright blue eyes which change tint depending on the scene and distract from everything else in the frame. Why give De Niro blue eyes at all? Because he's supposed to be Irish? There isn't a single moviegoer who would have walked out of the movie and said "De Niro was great, but what's with those brown eyes?" Actors need to embody the essence of a character, not their physical appearance. The result is a half-baked CGI mess in an otherwise live-action mob movie. Clearly, the death of aging actors has been greatly exaggerated.
The Lion King
The only reason to remake a classic is if you can somehow improve on the original. The Lion King fails to do that and the visual effects are the reason why. I understand the appeal of re-creating the Lion King magic with animals and settings that look real enough to touch. But what the new crop of Disney live-action remakes fails to understand is that the real "magic" of the originals lies in connecting with characters on a soul-to-soul level, and that's impossible with lifeless eyes and expressionless faces. Sure the animals look real and pausing on any frame reveals a stunning visual image, but the best visual display in the world can't overcome a movie that lacks a beating heart. The animals mouths are moving, but we feel nothing. I would encourage Jon Favreau and Co. to study the work of Pixar before embarking on any more remakes. Pixar movies look far more realistic than hand-drawn animation from the 90's, and best of all their soul is firmly intact.
Avengers: Endgame
Marvel movies have always found a way to incorporate other-worldly special effects into a seamless visual package. What we're watching clearly isn't real, but it feels like how things would look if there was a boy hero named Spider-Man being flung through the sky by a magic hammer with the help of a flying horse on the way to a mini-van with a time-travel device. I remember smiling wide at that scene because it was the perfect distillation of everything that's great about the Marvel brand. They take outlandish scenarios that should be ridiculous and cheesy and somehow make them relatable, believable, and cool. And they do it all without losing the human element at the heart of the story, because visual fireworks can never replace genuine emotion. In the age of the superhero, Marvel is still king.
Star Wars: Rise of Skywalker
The best visual effects in Star Wars have never been rendered off a computer. They're the practical, homegrown effects that feel so real you could reach out and touch them. My mind always goes back to the Mos Eisley Cantina from A New Hope — a room filled with so many fascinating details that you wish you could get lost in it for hours. The weird machine by the door that lights up. The man with the head of a baboon. Even Obi-Wan slicing off an arm. It's a visual effect to be sure, but it doesn't feel like one. George Lucas forgot that and created some of the worst visual moments in the series with his "special editions." Thankfully he's gone now and Star Wars can return to a bit of that old-school magic. Rise of Skywalker is still heavily dependent on CGI, but it doesn't stick out like a sore thumb anymore. Like most modern-day movies, there are enough visual wizards in charge to make the effects blend in naturally. However, the best moments are still the practical ones. I love Babu Frik's shop with strange wires strewn about in every direction. I love the way water drips from the heads of Kylo Ren and Rey when they duel. I love the feeling of the abandoned Death Star on a lonely planet with the stormtrooper helmets scattered on the floor. These are some of the least expensive effects in the movie, but they grabbed my attention far more than the state-of-the-art speeder chase through the desert. With Star Wars, less has always been more.
1917
The best visual effects are the ones you don't even know are there. 1917 looks and feels like we're walking alongside two soldiers as they carry out a dangerous mission in World War I. We're the third companion on the journey, and we share their experiences in real-time. Every visual effect fits together seamlessly to create that illusion. The one-shot aesthetic is essential in evoking that realism. Then there are the sudden bursts of action that happen along the way like the plane going down in the sky and crashing right in front of us or the firefight through enemy lines in the middle of the night. But the one that sticks out the most is when Schofield jumps into a river to escape gunshots. We're right there with him as he tries to stay afloat and plunges down a waterfall, and then, in the most astonishing moment of all, climbs over multiple dead bodies in the water to finally collapse on shore. All of that in one seemingly unbroken take. It's impossible to know all of the visual trickery that went into creating that gut-wrenching sequence. All I know for sure is that for that scene and so many others, I wasn't watching a movie — I was living an experience. That's the power of great visual effects.
Best Cinematography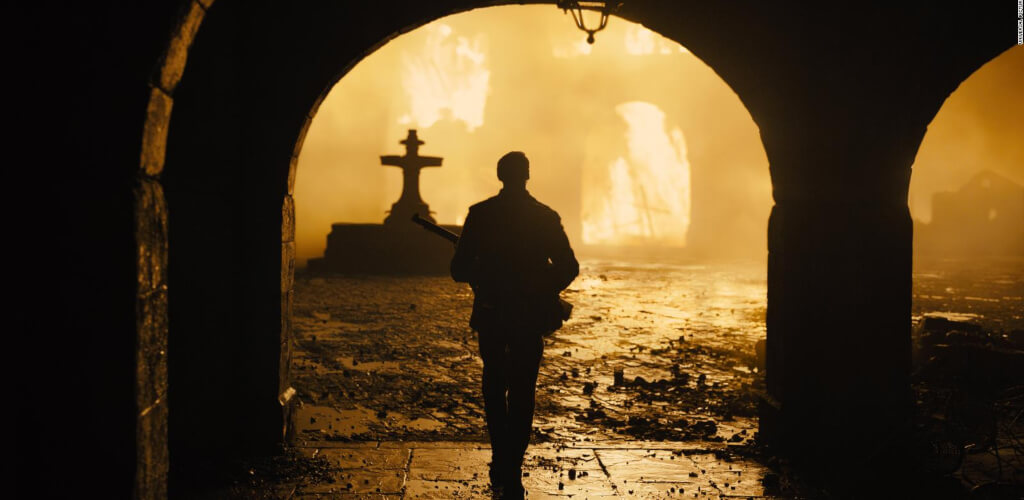 The Irishman
Once Upon a Time in Hollywood
Joker
The Lighthouse
1917
The Irishman
The only piece of cinematography that stands out to me when I think back on The Irishman is the long, slow tracking shot that gets us to Robert De Niro at the start of the film. But that's not a knock on Martin Scorsese and cinematographer Rodrigo Prieto. Outside of flashy moments like the infamous one-shot walk through the club in Goodfellas, Scorsese tends to use the lens as a tool to keep the movie flowing. He always manages to find the perfect combination of music and visuals to seamlessly dance from one scene to the next so that we never have time to be bored. This is especially helpful in The Irishman which is 3 ½ hours long.  It's a credit to Scorsese and Prieto's talents that such a long movie flies by as fast as it does. I still think the film as a whole could use some editing in the mid-section, but the camera always kept me engaged and ready to see what happens next.
Once Upon a Time in Hollywood
Is there anything cooler than watching Brad Pitt cruise around town in his convertible? Quentin Tarantino doesn't seem to think so, and he's absolutely right. So much of Once Upon a Time in Hollywood is simply Brad Pitt driving, but there's a kinetic energy to it and that comes from the incredible work by cinematographer Robert Richardson. The first time Cliff goes home, we see him pull into a drive-in movie theater and the camera glides up high past the flickering marquee. It's such an elegant shot. Tarantino is showing us the old-school Hollywood of his dreams. I'll never forget the look and feel of the Spahn Ranch scene in particular, one of the true highlights of the year. The way Clem crashes into the dust after Cliff punches him or the slow, eerie tracking shot to George's house with the Manson's devotees looking on. It's a case study in ratcheting up suspense and Richardson's cinematography brings it home.
Joker
What makes Joker a masterpiece is that every element works together seamlessly in service of the whole. Lawrence Sher's cinematography sets the mood from the start. We open on a beautifully lit shot of Joaquin Phoenix staring at himself in the mirror with the white paint of his face reflecting off the yellow lights of the makeup desk. He smiles wide as a tear falls down his face. That mix of beauty and darkness represents the aesthetic of the film as a whole. There's a vintage quality to the color tint that feels both old and new, as if we're watching something from another time and place that feels just one step removed from our time and place. But the standout scene visually is the attack on the train. I love the way the lights flicker in and out as the tension rises. And then comes the infamous scene in the bathroom where Phoenix dances around like a perverse ballerina bathed in washed-out green as that haunting score plays around him. It's the signature moment in the film, but just one of many standouts from Sher's outstanding work.
The Lighthouse
Black and white should be considered cheating when it comes to cinematography because movies look so good when it's done right. And cinematographer Jarin Blaschke certainly does it right. From minute one, The Lighthouse is a visual stunner. The black and white makes the movie feel like an old film reel that washed up on the beach for our viewing pleasure. But Robert Eggers wisely forgoes inserting artificial graininess to force the feeling. Instead, he lets each scene shine bright with crisp perfection. Even a simple close-up of a face looks staggeringly beautiful. But the best use of black and white comes near the end when we finally get a close-up of the mysterious light that's been locked away for most of the movie. It's the moment we've been waiting for, and Eggers goes in for the kill. The shot of Robert Pattinson's terrified face as a burst of light floods his soul is the stuff of nightmares.
1917
I have an idea about how to make the Oscars shorter: let's give all the technical awards to 1917 ahead of the ceremony. We might as well save that time since the result is a foregone conclusion. For pure technical brilliance, no other movie comes close. For starters, there's the one-shot framing overseen by famed cinematographer Roger Deakins. Some have called it a gimmick, but I think it's absolutely essential to the story director Sam Mendes is trying to tell. This is a movie about two boys tasked with an impossible mission. We need to feel every minute of their journey, especially the way a boring walk through the woods can erupt in death at any moment. Some of the places where they cut are obvious, but that doesn't negate the fact that this is still a movie made up of extremely long takes that took who knows how long to set up and re-shoot to perfection. I love the way the camera often stays right behind the boys as they walk, so that we take in each new element of the scene just as they do. Then there are the horrifying scenes at night where fire and chaos swirl all around. I'll never forget the POV shot of an enemy soldier walking along aimlessly, suddenly seeing Schofield in the distance, and then running toward the camera like a bat out of hell. In a word: terrifying. And of course, there's the money shot from the trailer with Schofield running through a field as bullets and bodies fly around him. That scene, like so many others in 1917, made me wonder out loud "How did they shoot that?" I'm sure the answer has something to do with blood, sweat, and tears. Hopefully Mendes' handful of Oscars on February 9 will make the experience worth it.
To Be Continued…
Check back next week for part two of our Oscar coverage as we pick Best Supporting Actress, Best Supporting Actor, Best Actor, Best Actress, Best Director, and Best Picture!