It seems as if every year, cinephiles are forced to reckon with an increasingly cyclical lineup of films. Beginning of the year throwaways; spring surprises; summer blockbusters; fall inbetweeners (I'll explain); and winter Oscar bait.
The inbetweeners always tend to be interesting. They're the films that have the feel of the summer blockbuster, but also seem to have the potential of award-worthy pieces. These are the boom-or-bust films that skirt a fine line between a desired sense of gravitas and pure entertainment. And this is where Antoine Fuqua's The Magnificent Seven stands: firmly in between two seasons.
Summer is over, and the arguably disappointing slate of mainstream films has many movie-lovers starving for award season. But it's still a little too early for the truly serious contenders. Who wants to run the risk of being forgotten over the course of a few months (Steve Jobs, anyone?) But if you can generate enough buzz, it's possible to ride the wave of publicity to February.
That's what Magnificent Seven aims to do. Packed with a all-star lineup of A-list favorite (Denzel Washington, Chris Pratt) and reliably excellent character actors (Ethan Hawke, Vincent D'Onofrio, Peter Sarsgaard), the movie hopes the nostalgia of the original film can combine with the added wrinkle of a diverse cast to create some fall magic.
And there is undeniably some magic at hand here.
The film has the feel of being in veteran hands, as well it should with Antoine Fuqua (Training Day, The Equalizer) behind the camera. The script – which we'll get into — is penned by Richard Wenk (The Equalizer, The Expendables 2) and Nic Pizzolatto (True Detective) making his big-screen debut. The writers certainly know what they're doing, constructing a script that is taught, but doesn't feel overly formulaic. It culminates in a spectacular piece of film-making at the end of the story: a gun fight that is both expertly directed and perfectly realized by the writers. Despite the film's many flaws, the climactic battle is a thing of savage beauty. More simply put, it's a whole lot of fun.
But strip away the impressive craft of The Magnificent Seven, and there are some issues with which viewers will have to reckon. One of them is both the film's saving grace and its weakest point: the Magnificent Seven themselves.
The "Magnificent" Seven
The real magnificence of Fuqua's remake can be found in the men he chooses to portray this band of do-gooders. It's not that Nic Pizzolatto and Richard Wenk's script thoroughly fleshes the characters out. On the contrary, only Ethan Hawke's Goodnight Robicheaux and Byung-hun Lee's Billy Rocks could stand on their own as written characters. They're easily the most charismatic of the bunch, and their emotional stakes — while sometimes strained — are nonetheless believable. As a former Confederate sniper and railroad worker, the two form an unlikely bond that is easily the most emotionally resonant piece of writing in the script. Hawke and Lee also take the subtleties of the script and work them to a quiet advantage. It's a relationship that's never explicitly stated, but it never needs to be.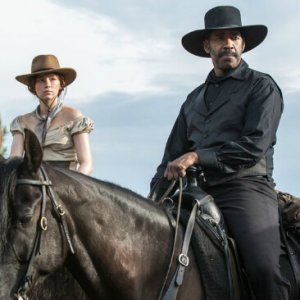 On the flip side, Chisolm (Washington) , Faraday (Pratt), and Jack Horne (D'Onofrio) are only brought to life by the strength of the men portraying them.
Denzel Washington is a sturdy — if quiet — presence, whose final moments aren't entirely justified by the script. But credit where credit is due: Washington makes a conscious choice to keep Chisolm's demons a secret. It's an active struggle to bury the hurt of the past underneath a desire to do good. Chisolm's true character is revealed, but it doesn't change the service he's done. Pratt — for better or worse — plays a heightened version of himself, shooting guns and cracking wise. It's worked thus far in his career, and it doesn't stop here. And D'Onofrio's Jack Horne doesn't really serve much of a purpose, but he sure is fun to watch.
It would almost be a waste of space to mention any other characters. Red Harvest (Martin Sensmeier), Vasquez (Manuel Garcia-Rulfo), Emma Cullen (Haley Bennett), Batholomew Bogue (Sarsgaard)… they're all forgotten over the course of film. It's not that the actors' performances aren't worth praising. There just isn't a lot of them to praise.
But despite the numerous flaws among the characters, there is some undeniable chemistry that works. That credit goes back to Fuqua and the artists themselves for crafting a dynamic that is equal parts confusing and irresistible.
The Morality of Magnificence
The real puzzle of The Magnificent Seven is the film's complicated morality. None of the seven men have a true reason to help the people of Rose Creek, so we're left to have faith in the goodness of who they are as people. Chisolm seems to have a good heart, but if we're to take the film's climax as truth, Chisolm is simply out for revenge. Robicheaux serves out of loyalty to his friend. Red Harvest longs for a sense of community. The rest? We're left with guesses at best.
The idea that these seven men simply choose to help Rose Creek because "it's the right thing to do" is a flawed premise that never really redeems itself. But it does raise interesting questions, particularly for those of us who wish to follow Christ.
Is there really any good in us? Are we driven to act selflessly out of our own selfishness? The ethics of The Magnificent Seven are barely there, but I have to wonder if that's an artistic choice, not a gross oversight. And even if it's the latter, there are worse ways to bring up those questions than with a film that is both maddening to dissect and exhilarating to watch.
In the end, it's hard to recommend The Magnificent Seven on the merits of its depth. Viewers should take it for what it's worth. It's an immensely fun watch, and one that raises some interesting questions about human motivations, especially in the face of sacrifice.
But if you're really hoping for an experience that both challenges and speaks to you as a human being, you might find the movie not-so-much magnificent as serviceable.