"I have known this woman all my life," Diahann Carroll writes in her autobiography.* "We grew up together in the same neighborhood." Lest someone might interpret that statement as metaphorical, she continues: "much of the film was shot around 145th Street and Convent Avenue, the very same neighborhood where I was raised…Claudine and I were sisters, alternate versions of the same little girls who made her way so long ago through these same Harlem streets."
Claudine is a movie determined to make a way. Its characters are pressed on every side, but not crushed. "Rather than make polemic commentary about the politics of the time," Carroll's costar James Earl Jones declares, "we simply bounce[d] off of real situations, family situations, and usually with a sense of humor."** But as radical feminist and author Carol Hanisch observed, "Personal problems are political problems."
Under Such Conditions
"At that time, the welfare system was a mess," Daniel Pine, son of Claudine screenwriters Lester and Tina, recalls. "On the one hand, recipients, mostly single mothers, were ineligible for benefits if they worked outside the home. On the other hand, most available jobs paid less than a living wage. My parents wondered how poor women on welfare managed to survive under such conditions…This was the premise of Claudine." It delivers on that premise, then and now.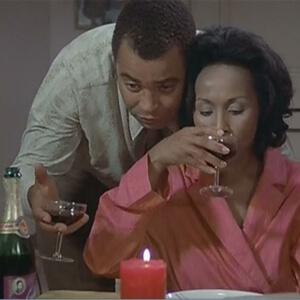 The film opens with its titular character hustling down the sidewalk, her children spreading on either side like wings, gradually feathering off in different directions, but not before a kiss from mama. The bus takes her to a domestic job in a suburban home. The bus takes her back to the apartment. The bus is Claudine's only mode of transit, covered in slogans like "We help you," "It takes so little to win so much," and "The Virgin Water." That is, until she meets Roop (Jones), a garbage collector who is "smarter than any job [he's] ever had" and drives an Impala. Claudine is never far from her children; Roop has always been far from his children. She's practical; he's spontaneous. "They're people who come to each other at exactly the right time," Jones remarks, "There's nothing more romantic than that. This is a romance." It is, and it is more.
Venom and Antidote
Everyone who traces Claudine's existence inevitably points to actor Diana Sands. With a sharp talent and, more importantly, a fully charged willpower, she co-founded Third World Cinema, pushing and pulling Claudine into its first production, all the while knowing that she was dying of cancer. When, on the first day of shooting, she collapsed and was raced to the hospital, all she could say was, "When is Diahann coming? Have you sent for her yet? What are you waiting for?" Not only did the two have a similar name, they spent elementary school together, tutoring each other in history, math, hair, and clothes. Diahann had gotten a job for Diana once; now she was returning the favor.***
That might appear to be an irrelevant anecdote, but it's another compelling example of the vitality behind Claudine, and in it. The Pines wrote scene after scene that are both zeitgeist and universal, and Carroll and Jones spit out lines like venom and antidote: the struggles unique to women; men; people of color; work; parenting; and the systems that set them all against each other. Claudine's subjects are human, in relationships, at a place, and framed by societal forces: a moving picture that prompts a closer look and listen. "It has something to say about us," critic Judith Crist noted, "as well as our neighbors."****
The Interplay
Two major things we notice about our neighbors are their music and their arguments; both can be intrusive or involving. We notice the same things in Claudine, but it's always involving. The soundtrack, entirely written by Curtis Mayfield and performed by Gladys Knight and the Pips, provides a rare continuity and commentary. They function as a Greek chorus, reflecting the mood, indicating subtext, outlining a theme, spurring action.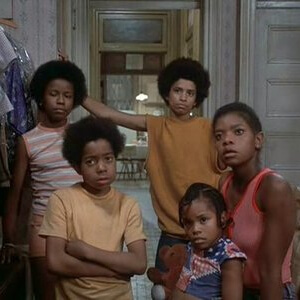 The film drew actors known and unknown, each one believable. Jones had just finished a run of King Lear in Central Park and put all of that poetic energy to perfect use. "I was beginning to understand a little more about the enigma of this medium…" He recollects. "I love the magic of film — the interplay of truth and illusion."***** When not on camera, Carroll spent most of her time in the dressing room, where the kids were always welcome. She used her entire salary — which was already low on this independent production — for an acting coach, to ensure she had examined every aspect of Claudine. Of course, what's impressive is that she doesn't seem prepared at all. Every moment is a surprise.
"I was lucky to get a role in that time," remembers Lawrence Hilton-Jacobs, who played Charles, the oldest child. He was 19 during filming, but his ability seems years beyond that. "They were in the middle of what they called the blaxploitation films…about the thug life…drugs and so forth…I said, 'this is a realized person…there's an arc to the character.'" Charles' foil, Charlene, is portrayed by Tamu Blackwell, with an almost excruciating honesty. We feel every flicker of her. When there's a flare up, as in her two scenes with Carroll, it is consuming.
People You Care About
It's not my practice to spoil the secrets of any movie, regardless of its age or popularity, but I have to quote Jones on Claudine's conclusion:  "Liberal critics, in particular, hated the way it ended 'cause they…wanted to see the fulfillment of that fantasy of the black man and trouble. Or black people and trouble…They didn't want to go home with [it]…What do you do with people who you care about?…When you drive through their neighborhood, you won't roll your window up, the way you used to." Claudine's accomplishment is that it makes image and word into flesh and blood. It makes you care.
__________________________________________
*Diahann: An Autobiography, Diahann Carroll with Ross Firestone, Little, Brown and Company, 1986.
**All quotes from James Earl Jones, Daniel Pine and Lawrence Hilton-Jacobs are from the 2002 DVD commentary of Claudine, unless otherwise noted.
***Diahann, Carroll.
****"Available in All Colors," Judith Crist, New York Magazine, April 22, 1974.
*****James Earl Jones: Voices and Silences, James Earl Jones and Penelope Niven, Charles Scribner's Sons, 1993.