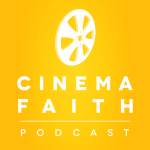 Tim couldn't be with us this month, but fear not! We found a worthy replacement. After talking about him all year, Dan Baker is finally a guest on the Cinema Faith podcast. The topic this time is Thor: Love and Thunder, the latest movie in the Marvel Cinematic Universe and perhaps the worst entry to date.
Taika Waititi returns to the world of Thor after his highly acclaimed Thor: Ragnarok. But all the magic of that film is gone. Instead we're left with juvenile jokes, zero stakes, and lazy execution. The only bright spot is Christian Bale as the villain Gorr. Bale brings his trademark commitment to the role, but even he can't save what will go down as Waititi's first big-screen failure. Did Marvel peak with Avengers: Endgame? Only time will tell.
Join Jon and Dan as they discuss the power of nostalgia, CGI twins, 80's racism, Dan's defense of Temple of Doom, when Marvel became overwhelming, another rant about Avatar, Taika Waititi's aesthetic, Jon's love for Garden State, Love and Thunder's tone problem, the contrast of the source material, Thor's personification of Deus ex machina, the betrayal of Natalie Portman, Russell Crowe as scuzzy Zeus, the Bechdel Test, screaming goats, the legendary Christian Bale, affirmations of faith in the MCU, fear of believing in the wrong God, and how superheroes point to a power greater than ourselves.
__________________________________________
Wired interview
Thor comic series (collected paperbacks)
Bechdel Test – https://bechdeltest.com/

It has to have at least two [named] women in it
Who talk to each other
About something besides a man