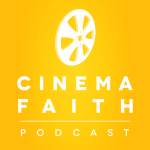 It's November and that can only mean one thing: Oscar season is officially here! For the next three months, studios will be rolling out their best releases of 2022. Want to kick things off with a film that's sure to be nominated in all of the major categories? Look no further than The Banshees of Inisherin.
Inisherin is written and directed by Martin McDonagh. McDonagh is no stranger to Oscar glory. His last movie, Three Billboards Outside Ebbing, Missouri, was 2017's Best Picture winner. Now McDonagh is back with his strongest film to date. On the surface, Inisherin is about a falling out between friends (Colin Farrell and Brendan Gleeson). But moving deeper, Inisherin is about the divisions between all of us and the lengths we'll go to overcome them.
Join Jon and Tim as they discuss the only true Thanksgiving movie, Martin McDonagh's filmography, HBO's shortsightedness, the Cinema Faith campaign against Hallmark movies, Tim's movie theater discovery, memorable screenwriting, the best Barry Keoghan movie no one's heard of, a defense of niceness, the importance of place, Inisherin's tonal shift, the consequences of isolation, Colin Farrell's finest hour, the divisions between us, rooting our self-worth, the taboo of male intimacy, knowing when to walk away, nonviolent communication, and the hope of universal reconciliation.