At the end of the day, we're all just looking for a place to call home.
Movies have long wrestled with this sentiment and not just in a physical sense. Hitchcock's characters don't trust the people closest to them, and are often punished when they do. Kubrick finds humanity and depravity in the cosmos just as easily as in an empty mountain hotel. David Lynch explores the profane amongst the sacred — our families, neighborhoods, and small town heroes.
This idea that we're never truly settled has haunted American cinema for decades, creating a unique relationship between consciousness and consumption that's never fully resolved. It bubbles up in films about racism and classism, all the while slowly turning an eye toward economic ethics. It's a complex idea that defies tidy categorization. It may even go beyond formal critique.
However challenging a concept it is though, it has never been more fulfilling than Joe Talbot's The Last Black Man In San Francisco. His debut feature, Talbot teams with long-time collaborator Jimmie Fails (and co-writer Rob Richert) to tell a semi-autobiographical story about Jimmie, a native San Franciscan who sets out with his off-kilter friend Montgomery to possess a house integral to his family history. It's a movie that explores the spaces we inhabit — and the people who inhabit them with us — with overwhelming sensitivity.
"You don't get to hate it unless you love it"
When you break down the title of The Last Black Man in San Francisco, you get two distinct elements. And while both are equally important, it's hard to miss that the film is concerned with the fact that it is in San Francisco.
Talbot and his DP (Adam Newport-Berra) paint the city in bold, contrasting strokes, showing off both the picturesque trolleys (and the concrete hills on which they travel) and the hazardous shores where children play next to men in hazmat suits. Much of the film's opening 20 minutes is spent investigating these spaces in drawn-out push shots and slow-motion dolleys. The contrast, however, isn't painted as positive or negative. It's just the way life is in San Francisco, though the differences are noted in striking detail.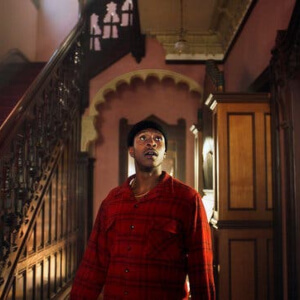 Equally as important is the house at the center of the story, a picturesque Victorian in the Shotwell Historic District. More so than any home in 21st century film, the house is shown off in glorious detail, inviting audiences into nearly every room and corner. Talbot's eye is constantly drawn to shots that take us through open spaces, allowing natural light and shadow to cast a warm, inviting glow on details that would otherwise feel stuffy.
And yet for all the beauty audiences are treated to early on, there's a progressively distant feel to both the city and the house. As Jimmie and Monty push forward in their efforts to secure their place in the town they call home, we're given less access to studious wide shots and more to the people who increasingly find themselves on the outside, the protagonists included. The Last Black Man in San Francisco is undoubtedly a movie concerned with gentrification and historical erasure of a city, and it deftly echoes broader concerns about the displacement of people groups and how it informs their view of the world around them.
"People aren't one thing"
Just as essential to the film as the setting is the community of oddballs and castoffs who make up Talbot and Fails' San Francisco. From the local toughs who park themselves outside of Montgomery's father's home to the man living in Fails' old El Camino, Talbot and Fails cast a wide net to explore the effects of the changing cityscape on the native population.
The emotional core of the film can be found in the deep friendship between Fails (portraying himself) and Montgomery (Jonathan Majors). The two men spend their days skateboarding through the city and watching the locals down by the bay. Fails' main concern is taking care of his family's old house, currently occupied by another family, while Monty keeps watch (often ineptly) and draws the countless faces and landscapes he sees. We also come to learn that Monty is a writer working on a play from which the film draws its name.
Fails and Majors lived with each other throughout the filming of The Last Black Man, and there's a natural intimacy that exists between the two. It would give the movie a secure heart even if the two lead performances weren't as strong as they are. Fortunately, Fails shines in his first on-screen performance, playing himself with an ease that comes with knowing the story personally. The real revelation, though, is Majors. He injects Montgomery's eccentricities with a remarkable confidence and subtlety, turning what could have been a distracting, schlocky character into one fully haunted by the cityscape. It's an absolute joy to watch Majors work with everyone on the screen, as each turn with another actor brings out something new to love about this quiet, confident playwright.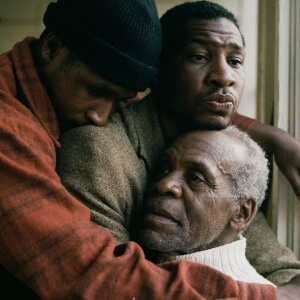 The rest of the cast rounds out just as strong. Danny Glover gives a short, steady performance as Monty's father, a man relegated to the outskirts of a town that no longer values him. Jamal Trulove gives a stunning supporting performance as Kofi, a tragic character who embodies the performative masculinity of the disenfranchised, but whose inescapable melancholy leaves an impact even when he's not on screen. Rob Morgan gives a punch to James Sr that isn't necessary to the film's success, but certainly rounds out its edges. Even Finn Wittrock, the functional "antagonist" makes the most of his minutes, an incarnation of the city's white-washing who slimes his way through the narrative touting his credentials as a "native." The movie doesn't delve deeply into the idea of white flight, though Wittrock's character definitely gives the film's commentary an edge.
"If you're going to San Francisco…"
There's a moment about midway through the film where Jimmie encounters a man on the street singing a reimagined version of the 1960's psych-pop song, "San Francisco (Be Sure to Wear Flowers In Your Hair)." For those unfamiliar, here are the opening bars:
If you're going to San Francisco,
Be sure to wear flowers in your hair.
If you come to San Francisco,
You're gonna meet some gentle people there.
Do you catch the dissonance? "If you come" implies an author beckoning visitors to come to him, while his following statement of "some gentle people there" suggests the final destination is a place other than where he is.
The thing is, these are not the original lyrics. In the original, the singer uses the word "going" twice. The dissonance is gone, and there's a harmony between the author and the people he's inviting to see the city.
This may have been a casual mix-up by the singer during filming, but it does perfectly reflect the state of being for the characters of The Last Black Man In San Francisco. There's a disharmony between them and the city they call home. They exist as ghosts, both intimately familiar with her streets and history, yet floating from place to place with never a corner to call home. What homes they do find are relegated to small dwellings by the infected bay or hidden in outsized buildings covered in corporate advertisements.
While some people find solace in each other and settle in these forced routines, Jimmie never does. Despite his best efforts, he comes to realize that his true home is somewhere between a place he hasn't been yet and the spaces he occupies with Monty. It's an uneasy existence but one that is often transcendent and exceptionally beautiful.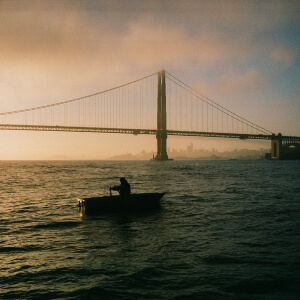 In this way, The Last Black Man in San Francisco works on two levels — the already and the not yet. Jimmie, like the audience, is constantly looking for a place where he belongs. He seeks solace in his past and his present, but nothing satisfies quite like the promise of home. It's an idea C.S. Lewis explored often, the concept of an ever-present longing for a home that we cannot place, aside from the fact that we know where we are now is not it. There is great promise and joy in knowing where your home is, even when you aren't there yet.
However, as The Last Black Man In San Francisco shows, there is beauty to be found in the waiting. Surely there is also longing, injustice, and pain, and these are things that must be confronted and fought with the same tenacity as Jimmie looking to repossess his family house (and city) from the unspoken forces which forced him out. But the intimacy of a friend, the joy of laboring on a space to call your own, even the tension between the person you are versus the person you want to be — these are all glimpses of a time when the longing is no more and home will, at last, be found.