Anyone who tries to write comedies for the screen will inevitably spend some amount of time hating Preston Sturges. The man was actually a hen who squeezed out golden eggs with enviable regularity: Sullivan's Travels, Palm Beach Story, The Miracle of Morgan's Creek, Unfaithfully Yours. "You can't replace someone like Sturges," reminisced director, writer, and collaborator Billy Wilder. "When he died we suffered not only the loss of a human being we liked and admired, but also a whole category of pictures. A whole species went with him." Some of those species, if not endangered, are definitely due for a revival. And so we Remember the Night.
Christmas in Indiana
Lee Leander (Barbara Stanwyck), a pretty thief with enough smarts for the street and the drawing room, has been busted for the third time, which is rather an impressive number, actually, considering she's led a life of stealing. Those assigned to her trial include John Sargent (Fred McMurray), a District Attorney with noble ideals and his own ideas; the latter motivate his influencing the court into postponing Lee's sentencing until the new year, thereby increasing the odds of a conviction and ensuring his holiday travel plans.
After achieving this selfish end — and only under the loud protests of Lee and obligatory goodwill toward men — John pays the bond so she will not spend Christmas in jail. The bondsman, with "a mind like a sewer," misinterprets this gesture and arranges for Lee to be deposited at John's apartment. Lee has nowhere she calls home, not even her hometown, which John learns is not far from his: both small, both in Indiana. But this road trip will have a lot of detours, and before it is finished, the two might be more than traveling companions.
A Very Nice Institution
A superficial viewing of Remember the Night, aided by Sturges' smooth and humane satire, could finish with one concluding it is a criminal's redemption story, but that is dependent upon our society's definition of criminal. Sturges' definition, however, is much more expansive and exacting, involving the criminal, a justice system run by criminals, and the criminal neglect and manipulation of families.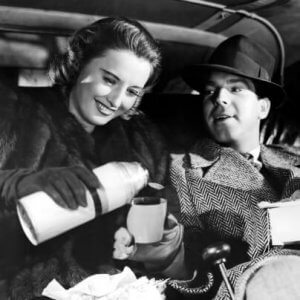 Reportedly director Mitchell Leisen nipped and tucked the script far more than Sturges preferred, yet the finished film seems in fine shape and even tone — and quite different than his others. In Remember the Night, Sturges is not prone to, or possibly Leisen prevented him, from "turning his back on what he has been sniping at to demolish what he has just been defending," as Manny Farber wrote in the review of Palm Beach Story. Or at least, not as much. Or perhaps it is as Donald Spoto claimed: "[Remember the Night] has a directness about love that could come only from a man close to that experience." And yet Sturges claimed "Marriage is a very nice institution but you don't always find the perfect mate the first few times out."* I claim ignorance, however based on my reading, it seemed Sturges loved work and liked people. And he really liked women.** They liked him too — but not when he liked too many at once.
"Life wasn't easy for my mother,"*** Solomon Sturges said of Louise, Preston's third wife, "because Pop was an absentee husband. His attitude was, 'It's nice to have a woman around, and sometimes there's the family, but dammit let me get back to work.'" Ironically, and perhaps wistfully, in Remember the Night, Sturges' work centers on the family: dysfunctional, perfect, and the only place for training up a child in the way they should go.
Compromise of Integrity
Though the families of Lee and John are not necessarily depicted dualistically, they are certainly contrasting, and it isn't difficult to decide your favorite, possibly because of screen time and performances: Lucy Sargent, John's mother, might be rather insufferable if she wasn't tempered by Beulah Bondi's interpretation; Willie is animated by Sterling Holloway with such comedic purity he almost becomes a holy fool; Aunt Emma is so embodied by Elizabeth Patterson you forget she is an actor. In total, they are a charming tempest, spinning with mild codependency and genuine love and ready to toss the first outsider who could interfere with their weather pattern — albeit gently.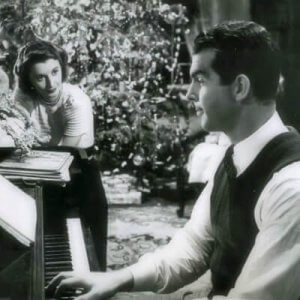 The Starges' survival has never required a compromise of integrity, whereas Lee's family, represented by her mother (Georgia Caine), has varying accounts of a situation that became a condition from which no one recovered. "Right and wrong is the same for everybody, you see, but the rights and the wrongs aren't the same," Lee explains to John, adding that the difference between them is if he were starving, he'd steal a loaf of bread, and if she were starving, she'd order a six course dinner and pretend she forgot her purse. "You're way smarter," John smiles. "That's it," Lee replies, "we're smart."
Even this single performance, apart from an impeccable career, is sufficient evidence that Barbara Stanwyck was a "character star,"**** who, when given a good character, took to it like fire from heaven. In the above exchange, with eyes somehow both clear and overcast, she imparts, in such depth of sorrow, such bitterness of understanding, that there is no one righteous, and wrongs have been done, but smarts are all you get for it — in this life.
Remembered Love
Is Remember the Night love as we remember it? The memory that we call a conscience, so certain of what love is not, of what love is meant to be…a discipline full of grace? Summarizing the film, Sturges quipped, "love reform[s] her and corrupt[s] him." At first that sounds more clever than true, but the closer you listen, the more true it rings. Love is not always just. Thank God.
__________________________________________
*Both quotes from Donald Spoto's Madcap: The Life of Preston Sturges.
**"[Sylvia Gaby, French actress] called Sturges 'one of the two men I've known who really likes women — to talk [to] and be with them.'" Donald Spoto, Madcap: The Life of Preston Sturges.
***"Louise sat up with him nearly every night, acclimating herself as best she could to her husband's nocturnal habits. She'd last until four or five in the morning, make sandwiches, then sneak off to bed. But if Preston was still working, his face would appear in the doorway, wanting to know if she was yet asleep and then asking what a 'hick' way of saying a particular line would be…her background was similar to that of the…small-town characters and the hero's mother." So similar that Sturges named the mother after her. Quote from James Curtis' Between Flops: A Biography of Preston Sturges.
****"[Stanwyck's] refusal or inability to be simplified into a single image — has to be seen as a major factor in her longevity. More iconoclast than icon, more a character star on the order of Bogie or Cagney, she was often the second or third choice after Claudette Colbert, Jean Arthur, Bette Davis and Irene Dunne. Yet she has worn especially well. And if she was underappreciated in her time, her minimalist gifts — the fluid movement, the stillness in repose, the sense of interiority — have come to seem ultramodern." Molly Haskell, in her splendid New York Times review of A Life of Barbara Stanwyck by Victoria Wilson.