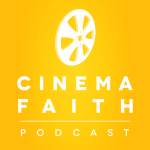 Dungeons and Dragons: Honor Among Thieves is the Top Gun: Maverick of 2023. A movie you go into expecting nothing and walk out from in movie heaven. How can a film based on a fantasy role playing game actually be good? Writer/Directors John Francis Daley and Jonathan Goldstein provide the answer.
When we first meet Edgin (Chris Pine) and Holga (Michelle Rodriguez), they're locked up in prison with nowhere to go. But soon enough, they're teamed up with a failed wizard named Simon (Justice Smith) and a druid who doesn't like humans named Doric (Sophia Lillis) to rescue their daughter from a megalomaniac (Hugh Grant), defeat an evil sorceress, and save the world.
Join Jon and Dan as they discuss Chris Pine's leading man charisma, method acting, a Tarantino hot take, binging vs. weekly viewing, a Dungeons and Dragons explanation, terrible trailers, Tim's European vacation, pacing and tone, Hugh Grant's disarming charm, D&D's Wisconsin origins, Dan's love for Detective Pikachu, Jon's cast intro rant, the power of family, strength found in weakness, and the roles we play in the body of Christ.