While the rest of cinematic world rolls on, consumed with thoughts of superheroes, popular film Oscars, and who's directing the next James Bond, Netflix has quietly been revolutionizing its library of content.
Ahead of an award season slate featuring the likes of ​Alfonso Cuarón, David Mackenzie, and Jeremy Saulnier, the booming streaming company has enjoyed a summer of sleeper hits that have revived interest in the romantic comedy genre, one which was largely left behind by Hollywood in the past decade. And while the early summer hit ​Set It Up​ was largely beloved by critics and audiences alike, Netflix has really hit its mark with ​To All the Boys I've Loved Before​, a teen rom-com purposely molded in the vein of John Hughes' hits like ​Pretty In Pink ​and Sixteen Candles​.
A Sure Foundation
All the Boys​ stars Lara Condor as Lara Jean, a shy high school junior whose world is shifted when her older sister moves to Scotland and a series of secret love letters is mailed out to all the boys she's ever eyed romantically. The boys start showing up demanding explanations and Lara Jean clumsily tries to save face, leaving her with a fake boyfriend, several hurt frenemies and, ultimately, a new sense of confidence.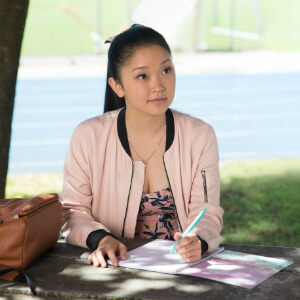 The sense of assurance that ​All the Boys ​carries makes the difference between it and its Netflix counterpart, ​Set It Up​. While the latter spends more energy leaning toward straight comedy — to varying degrees of success — ​All the Boys​ feels more comfortable in its own skin, coyly playing at the semi-serious nature of its central conceit. Lara Jean feels like her life is collapsing. Wouldn't you?
But there's a whimsy to Condor's performance, and that of the supporting cast, that relaxes the viewer and makes it OK to invest in the stakes, be they trivial or not. Because we care about Lara Jean's plight — and that she's invested more in her love of others, rather than self — her antics and falsehoods take on the subtext of a girl who's looking to learn where she fits in her small world. Condor's star turn gives us a sturdy foundation on which to stand, both grounding and elevating the material around her. Clunky plot points, overly concise dialogue: Who cares when you've got someone as charming as Lara Jean?
Old and New
The real victory though — for Netflix and the film industry as a whole — is the commitment to change within the romantic comedy genre. ​All the Boys​lovingly alludes to its Hughesian predecessors while also bluntly acknowledging the ways in which they failed. Lara Jean and Peter watch ​Sixteen Candles ​together at one point and Peter asks if the Long Duk Dong character is racist.
"Oh, it's super racist," says Lara Jean. And then that's it. No more mention of ​Sixteen Candles or ​Pretty In Pink. ​Instead, ​All the Boys ​takes the time to plot its own course. It's a very small moment — even insignificant in a way — but it underscores the past-present-future perspective the film wants to take.
Still, ​All the Boys​ mines from the emotional depths as its rom-com brethren. Lara Jean's quest to find love and her stubborn attempts to resist drive the whole plot, leaving us in familiar and sometimes predictable territory. But that doesn't stop ​All the Boys ​from being an irresistible foray into the genre. Those who take the time to invest will find their time rewarded, and not by the sexualized emptiness that has plagued the genre. Instead, ​All the Boys ​offers a sweet escape into the innocence of adolescence while giving us deep truths about kindness, family and, yes, love.