Here I sit, again, watching Couples Retreat. I returned to this movie many times because it is funny and I am thoroughly entertained. But on this occasion (perhaps the 5th time?) I have realized a deeper level of truth for my love of this movie.
IMBd only rates this movie 3 stars, scoring a mediocre 5.5/10. This surprises me because of my love for this movie. As I read through the user reviews, my heart sinks. I'm not sure what the expectations of the viewers were – perhaps none are married, perhaps they could not identify with the characters, or perhaps they were hoping for different outcomes. My initial thoughts are that viewers were also expecting another Vince Vaughn style movie, which it wasn't specifically. (Vince Vaughn seems to have slowly recreated himself as a more serious actor in recent movies.)
Jason and Cynthia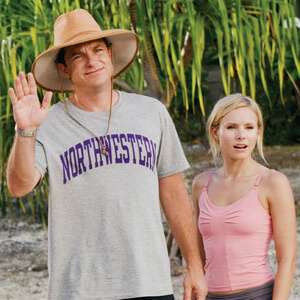 Played by Jason Bateman and Kristen Bell, this couple made me laugh right from the words "powerpoint presentation." Despite their mutual respect and obvious deep intimate care for each other, they claim their relationship is loveless and under stress due to issues with conceiving a child. With a matter-of-fact, business-style presentation to their friends, they explain how their marriage is on the rocks and that the Eden Resort on a beautiful island (that coordinates marriage retreats) will be their last chance at salvaging the relationship.
Jason claims to his friends, "We need to take the next 2 weeks to decide if we're going to push forward or fold up shop. Can we get back to the place of being in love?"
What I enjoy about this couple is their steely and respectful determination to work on the marriage, although the cracks begin to appear as we witness an overly organized, protective and controlling husband and a shame-ridden, squashed wife.
The breakthrough for them is forced by a communal issue for all of the couples that forces their own personal truth to the surface.
Dave and Ronnie
These characters are played by Vince Vaughn and Malin Akerman and this is the couple I currently relate to. Life for them has become "the children" and anything around that is done in double time with as much energy and interest as can be spared. Conversations between Mum and Dad are done over and around juggling the kids, whilst managing the decisions associated with building their new home. Falling into bed each night exhausted rounds off this cyclical joyless routine.
Dave and Ronnie have been living on a day-to-day coping schedule and during the course of the movie they slowly realize some deeper issues about their relationship together and about themselves as individuals.
Their breakthrough is found by rekindling the joy and fun of being together and some truthful discussions about their life that began to operate on autopilot.
Joey and Lucy
Jon Favreau and Kristin Davis play the roles of Joey and Lucy. This marriage seems doomed from their first scene. Joey is a very frustrated, fearful, immature man who has forgotten how to love the woman of his dreams. Lucy has lost touch of who she is in the relationship and has joined the marital frustration, fake pleasantries, misunderstandings and general disdain for her husband.
Shane and Trudy
These characters are played by Faizon Love and Kali Hawk, and this couple are dragged on the Couples Retreat only to fill in the final two positions required to get the group discount booking. Shane is definitely not over his ex-wife Jennifer (played by Tasha Smith) who makes an appearance near the end of the movie. His very young new girlfriend makes the retreat a difficult and tiring time for Shane.
Eden Couples Retreat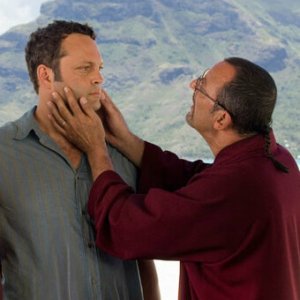 When the couples first arrive at the island, the first morning activity is a lineup at the beach, with all the couples facing their partners. They are ordered to "remove your mask!" and slowly they remove most of their clothes and stand vulnerable before one another.
Perhaps at this point they are feeling self conscious. Perhaps they are remembering the first time they set eyes on their lovers' body. Perhaps all they can see and feel is pain and hurt. Or perhaps the shed of their clothes signifies the shed of all that is not who they are.
Marcel who runs the Couples Program then profoundly says, "Explore with your eyes. Explore your mate. We are all made in God's image. That means we are all perfect." It was at this point as I surveyed the bodies of all shapes, colors and sizes standing before one another that I realized the impact of the statement by Marcel – "we are all perfect."
When we are in crisis and where pain and hurt runs deep, it is easy to see the imperfections, to see the other as our enemy and to have an unfocused and skewed opinion of them. It is easy to hide our true selves away from each other and put up a wall made with our tears and pain. Then dysfunction becomes our operational existence.
The retreat is a series of therapy sessions, yoga, adventures, mishaps and desperation in their plight for understanding and restoration within their relationships.
The Animal Spirit
In the final moments of the movie, the couples are given a special "animal spirit" by Marcel.
"Finally, Ronnie and David. I have thought long and hard about this. l could not decide with my mind. l had to open my soul to the animal spirits. And, finally… The ass. You are the ass. Stubborn and immovable. The mighty ass tirelessly bears the heavy burden of others. But when the ass is on the move, nothing can stop the ass. Be an ass for your marriage. Be an ass for your children. Be an ass for love."
It is said that in the East the ass is especially remarkable for its patience, gentleness, intelligence, meek submission, and great power of endurance.
This is my prayer for marriages and relationships alike. That we will be each other's burden carriers with strength and care and for the reasons of peace, kindness, and love.